EBRD president praises Egypt's success in implementing economic reform program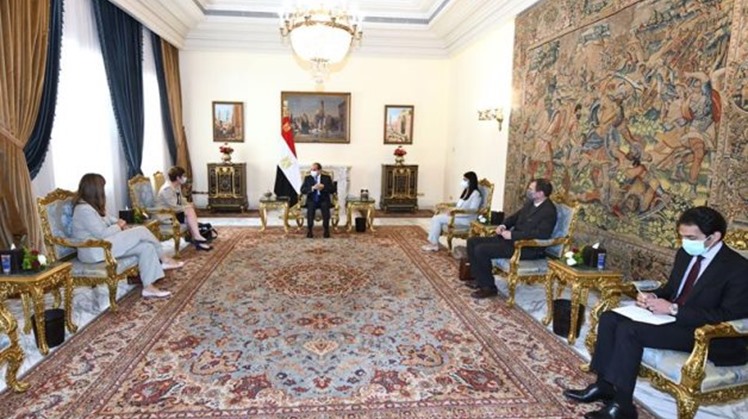 Thu, Apr. 22, 2021
CAIRO – 21 April 2021: President of the European Bank for Reconstruction and Development (EBRD) Odile Renaud-Basso praised Egypt's success in implementing its ambitious program for economic reform, as she met with Egyptian President Abdel Fattah El-Sisi on Wednesday.

Renaud-Basso said the Egyptian program has contributed to the recovery of the Egyptian economy, raising growth rates and maximizing direct foreign investments.

She said this success is a role model for other African countries who can benefit from the Egyptian experience in this regard, especially amid the coronavirus crisis.

Renaud-Basso voiced the World Bank's appreciation for its firm and fruitful relations with Egypt and the Egyptian financial institutions.

She also affirmed the Bank's keenness to expand its activities with Egypt and work on implementing other developmental projects, in a way that serves the implementation of Egypt's national strategy for sustainable development "Egypt 2030".

Sisi congratulated Renaud-Basso for being elected as the first lady to serve as the EBRD's head. He voiced appreciation for the special relations between Egypt and the Bank.

The president added that the Bank has been Egypt's partner in the success of the developmental process over the past years.

Sisi voiced the country's keenness to continue productive cooperation with the World Bank, in support of the Egyptian goals and developmental priorities.

This cooperation comes through a new strategy between Egypt and the World Bank during the coming five years.

Sisi and Renaud-Basso discussed means of enhancing cooperation between Egypt and the World Bank and increasing the Bank's contribution to funding projects in Egypt.

They discussed horizons of future cooperation with the Bank in terms of the priority sectors, the most important of which are renewable energy, climate change, digital transformation, education and training, and small and medium enterprises.

They also discussed cooperation in the Egyptian initiative to develop the Egyptian villages, youth housing programs and social protection networks.