Egypt's president convenes with Armed Forces personnel, holds a dialogue on internal, regional, and international topics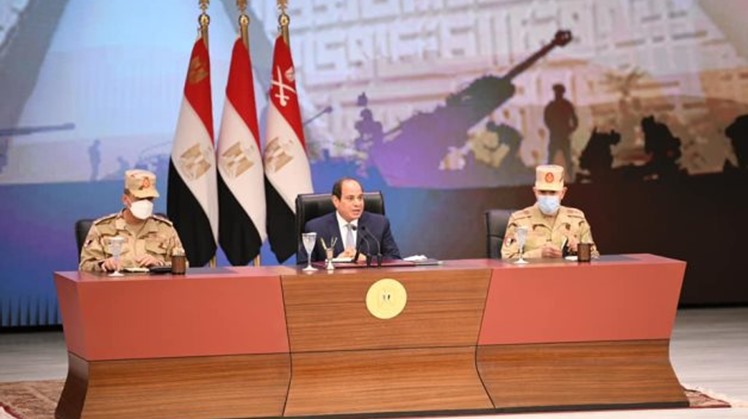 Tue, Mar. 9, 2021
CAIRO – 9 March 2021: Following the conclusion of the Martyr Day ceremony, President Abdel Fatah al-Sisi convened Tuesday with commanders, officers, and non-commissioned officers holding a dialogue on internal, regional, and international topics.

The dialogue asserted Egypt's fixed stance on various matters, and that "stance is always characterized with wisdom, patience, and maturity towards dealing with all matters and issues," the statement released by the presidency reads.


Before starting the dialogue, all attendees stood up for a minute of silence as respect to the martyrs' souls. Later, the president expressed greetings and appreciation for members of the Egyptian Armed Forces deployed across Egypt and defending the properties, security and stability of Egypt.


President Sisi discussed with a number of commanders topics pertinent to Egypt's national security, and different challenges facing the state. The president listened to their views and queries praising their deep understanding and enlightened awareness of the demands mandated by the upcoming period.



The president stressed the strength and solidity of the willpower of the Egyptian state, its institutions and agencies that enable them to carry out continuous efforts and relentless work to change reality and improve all aspects of Egyptian citizens' lives.