Egypt, Iraq initially agree on importance of set oil-for-reconstruction mechanism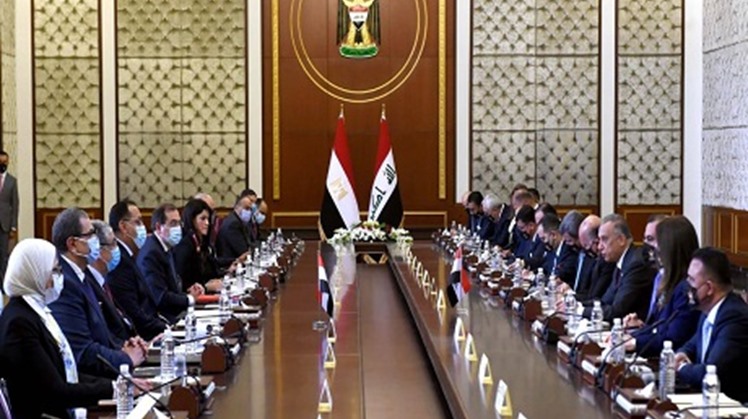 Sun, Nov. 1, 2020
CAIRO - 1 November 2020: Egypt and Iraq have initially agreed on the importance of establishing an oil-for-reconstruction mechanism, under which Egyptian companies are to implement developmental ventures in Baghdad in return for providing Cairo with quantities of oil, according to Egyptian Prime Minister Mostafa Madbouly.

Addressing the Egyptian-Iraqi high committee meeting held in Baghdad on Saturday, Madbouly praised "what was initially agreed upon concerning the importance of establishing an oil-for-reconstruction mechanism," which he added would contribute to double cooperation between both countries, according to Ahram Online.

Accompanied by a high-level ministerial delegation, the Egyptian PM arrived in the Iraqi capital earlier today to co-chair the meetings of the high committee with his Iraqi counterpart Mostafa Al-Kadhimi.

According to a cabinet statement released by the cabinet following the meeting, Madbouly told the Iraqi side that the Egyptian construction companies are ready to help reconstruct and develop Iraq's infrastructure.

He noted that Egyptian President Abdel-Fattah El-Sisi instructed the government to harness all Egyptian expertise to support Iraq in various fields.

Madbouly said that the high committee meetings aim at maximising the mutual benefit from the experiences and capabilities of the two countries in various fields.

The committee, which was revived following a trilateral summit attended by the leaders of Egypt, Iraq, and Jordan in August, aims to enhance ties on economic, trade, and investment levels.

During his speech, Madbouly also called for utilising what he described as "great production and export potentials" that both countries enjoy.

Madbouly also said that the meeting with his Iraqi counterpart led to a consensus for both countries' water security, especially as they are downstream countries.

Both premiers agreed on water security being among common regional security issues, stressing their interests in safeguarding their water rights as a matter that would compromise Arab regional security.

They also affirmed the necessity of preserving Egypt and Iraq's interests regarding their water resources.

Madbouly also reviewed Egyptian accomplishments over the past six years in the fields of power, road construction and others, which he said can open doors for cooperation with Iraq.

He said the vision of President Abdel-Fattah El-Sisi is based on setting up major national projects with paying special care to infrastructure, a matter that led to the decrease in their unemployment rate and pushed Egypt forward nine positions in the 2020 sustainable development index.

The prime minister congratulated Iraqi forces on defeating terrorism and warned of a plot to create chaos within the Middle East region.

He reaffirmed the Egyptian consonants towards Iraq, which he said is based on preserving its unity and disallowing any form of foreign interference.

Iraqi prime minister praised the "leap" Egypt achieved in various sectors, especially those in electricity, roads, bridges and housing.

A preparatory round of talks has preceded Saturday's meeting to prepare a set of agreements about potential ventures that can be carried out between Cairo and Baghdad.

The Egyptian-Iraqi high committee was formed by an agreement signed by both countries in July 1988, with the aim of coordinating cooperation frameworks.

The committee has met twice since then, in 1988 and 1989.

Following the meeting, both premiers witnessed the signing ceremony of 15 agreements, the memoranda of understanding (MoUs) and protocols to boost cooperation between their countries.

The signed agreements and protocols covered different sectors such as oil, justice, irrigation, environment, stock exchange, health, transport, roads, housing, construction, trade, industry, consumer protection, and investment.