Egypt's Sisi inaugurates 3 residential complex in Moqattam to combat informal housing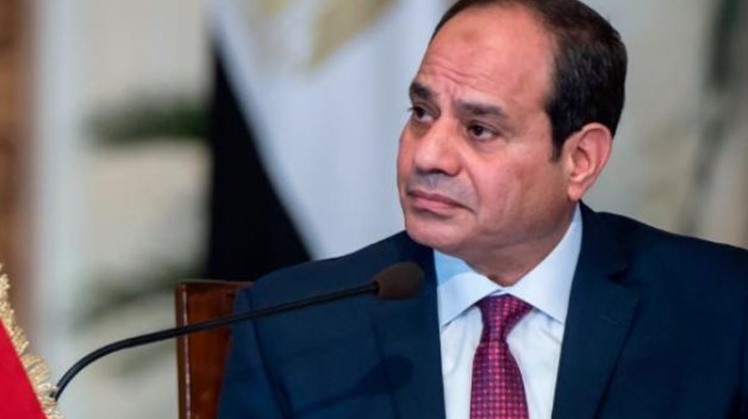 Sun, Jul. 12, 2020
CAIRO - 12 July 2020: Egyptian President Abdel-Fattah El-Sisi opened on Sunday the third stage of the Al-Asmarat housing project in Moqattam, Cairo, which is part of continued government efforts to combat informal settlements and build new homes for slum residents.

Al-Asmarat 3 is set to become home to thousands of residential units with full utilities and facilities and a service complex that would serve around 100,000 people living in all three stages of the housing project, according to Ahram Online webiste.

The third stage includes constructing 7,440 units and several facilities, including playgrounds, health units, a parking space that can accommodate 9,000 cars as well as plans to construct a church and a mosque.

El-Sisi toured the third stage of Al-Asmarat complex with Prime Minister Mostafa Madbouly, Parliament Speaker Ali Abdel Aal and Defence Minister Mohamed Zaki, inspecting residential units, schools and sport facilities among others.

The government began work on Al-Asmarat residential complex in 2016.

El-Sisi reiterated on Sunday the government's zero tolerance policy on building violations, stressing that "violations on state lands will not be allowed."

During the inauguration of the third stage of Al-Asmarat housing project in Cairo's Moqattam, El-Sisi said the state has dealt with building violations in the past 10 years with patience and without strict measures, something that he says has to be changed.

"We will no longer allow informal growth or violations on state lands. This won't happen. The magnitude of danger to the Egyptian state is huge," he said.

Egypt saw a significant rise in illegal buildings amid the security vacuum that followed the 2011 uprising. Countless people started constructing multi-storey buildings without acquiring the necessary permits or complying with safety standards.

A large portion of Egypt's 100 million citizens live in clusters of red-brick buildings and informal settlements.

El-Sisi said that 250,000 housing units have been constructed to rehouse residents of unsafe areas, adding that the state is set to provide simple funding instruments for citizens.

During the inauguration, El-Sisi watched a documentary - A Smile of Hope - on several national projects -- including Al-Asmarat 3 -- and efforts over the past six years to turn informal settlements into safe residential complexes.

The documentary showed slums that had littered the country before the project's development, with El-Sisi stressing that such informal settlements will not be allowed again.

Government takes action

The phenomenon of informal settlements was first put in the national spotlight in 2008 following the collapse of a rock face on the edge of Moqattam, which led to the deaths and injury of scores of people living in the Doueyka area and highlighted the urgency of addressing housing challenges.

According to a government officials, informal settlements in Egypt constitute around 40 percent of the country's urban areas.

Authorities have removed a total of 14,964 illegal buildings, almost half of which were built on state-owned lands during the period from 25 March to 7 July, the cabinet said last week.


Meanwhile, Housing Minister Assem Al-Gazzar said that the issue of unsafe informal settlements is among the most critical facing the state, adding that the government has worked on addressing the issue through its Informal Settlements Development Fund (ISDF).

The minister said that 250,000 residential units are currently being established at a cost of EGP 61 billion, and that 610,000 social housing residential units have been constructed at a cost of EGP 90 billion.

The minister added that the construction of 750,000 residential units under the country's social housing scheme is currently underway at a cost of EGP 145 billion, and that more work is underway to construct 1 million residential units at an estimated cost of EGP 200 billion.

El-Sisi has ordered the government to open registration for citizens in the unprivileged areas of Zelzal 1 and Zelzal 2 to receive new residential units.

The president asked Defence Minister Mohamed Zaki to allocate a plot to establish a new residential city for Zelzal's residents, who received housing following the devastating 1992 earthquake, and others seeking relocation.

Affordable Housing

El-Sisi said the estimated cost of constructing 1,000 residential units is EGP 600 million, explaining that the actual cost of building each unit is EGP 600,000.

He said authorities will enforce "very firm and harsh" building requirements, stressing that it costs the state less to build well-planned communities than to fight the impact of illegal settlements.

He stressed that the state continues to stand by citizens, providing subsidized apartments to those who live in dangerous areas.

The president said that citizens only bear the cost of maintenance at their new units, adding that had the state chosen not to subsidise rents, the cost of renting a unit at market price would have been between EGP 5,000 and 6,000.

Social Solidarity ministry efforts

Social Solidarity Minister Nevine El-Qabbag highlighted during the inauguration a number of statistics about the residents of Al-Asmarat, and her ministry's efforts to develop the area.

The minister said that around 47.7 percent of the families in Al-Asmarat have more than four members, and 65 percent of the families have members who are informal workers. This is why the ministry was keen on furnishing the housing units for residents in cooperation with civil society organizations.

Around 33 percent of the residents of Al-Asmarat are illiterate, 11 percent receive financial support, 17.3 percent receive pensions, and 47.5 percent benefit from ration cards, the minister said.

She explained that the ministry is undertaking conscious-raising campaigns among the youth in Asmarat to change behavioural norms and encourage investments.

She added that the ministry is planning to open a fairground to market the products made by Asmarat residents.

El-Qabbag added that an integrated service centre in the complex provides special services for empowering women and children in cooperation with several ministries.