Sisi, Canadian PM discuss counter-terrorism efforts, bilateral ties on sideline of AU summit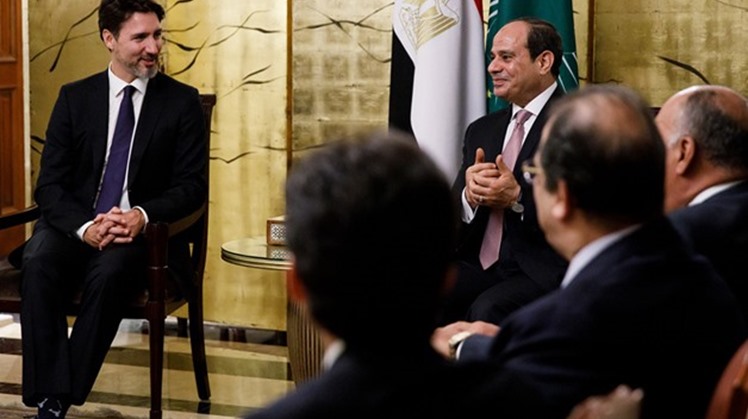 Mon, Feb. 10, 2020
CAIRO - 10 February 2020: On the sidelines of the 33rd African Union Summit in Addis Ababa, President Abdel Fatah al-Sisi and Canadian Prime Minister Justin Trudeau discussed counter-terrorism efforts and bilateral relations between both countries, said presidential spokesperson Bassam Radi on Saturday.

"President Sisi affirmed Egypt's keenness to strengthen the economic and trade relations with Canada," Radi added. Both leaders also tackled the regional and international issues of mutual concern.

Trudeau expressed his country's commitment to continue working with the African Union. He discussed Egypt's efforts during its AU chairmanship in 2019, according to a statement from the Canadian Prime Minister's Office on Saturday.

Sisi handed over the presidency of the African Union to South Africa during his participation at the 33rd African Union Summit.

In a speech, President Sisi reviewed Egypt's achievements during its presidency of the AU, saying Egypt managed to reinforce the state of security and peace in the continent through the principle of "African solutions to African problems," despite challenges of terrorism and extremism, especially in the Sahel region and the Horn of Africa.

"Egypt has implemented the principle of "African solutions to African problems" through many initiatives," Sisi said, including hosting two consultative summits on Libya and Sudan, and testing it on several issues such as that of Guinea-Bissau, South Sudan and Central Africa.