Egypt's Sisi orders government to scale up its slum improvement efforts nationwide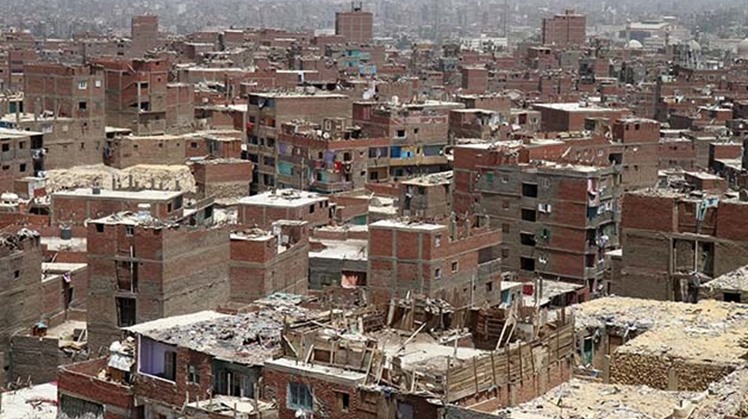 Mon, Feb. 3, 2020
CAIRO - 3 February 2020: President Abdel Fatah al-Sisi ordered Sunday the government to scale up its slum improvement efforts nationwide to ensure a decent life for slum dwellers and provide them with better services.

Sisi's remarks came made during a meeting with Prime Minister Mostafa Madbouli, Minister of Housing, Utilities and Urban Communities Assem el Gazzar and Presidential Adviser for Urban Planning Amir Sayed Ahmed, according to a statement issued by Presidential Spokesman Bassam Rady.

Gazzar briefed the president on the ongoing efforts to improve shanty areas and support social housing projects in a sustainable manner that takes into account the families' social needs in terms of education, healthcare and entertainment.

He also spoke about the implementation of an urban development plan to revamp historic Cairo by supporting commercial, cultural and tourist activities at heritage and archaeological sites and restore several areas including Maspero Triangle, Magra el-Oyoun wall and Ain al-Hayat neighborhood in the vicinity of the National Museum of Egyptian Civilization.

Moreover, the meeting took up the progress of construction and housing projects in the New Administrative Capital, including major utilities, the business district and the Green River.

The meeting also tackled the implementation of the 4G cities and water treatment plants under-construction nationwide, the statement noted.

In June 2019, executive director of the Development Fund for Slums Khaled Siddiq said that More than half a million citizens have so far benefited from slum development.

He added that slums development will cost about LE30 billion, adding that the government has spent LE18 billion until now.

Siddiq stressed that the fund aims to provide the Egyptian citizen with a suitable place to live. He said that President Abdel Fatah al-Sisi directed institutions to eliminate all slums by the end of 2019.

Siddiq pointed out that funding comes through the state's budget, pointing out that the statistics of the Central Agency for Mobilization and Statistics (CAPMAS) helped identify the slum areas.

In December 2018, Siddiq remarked that Port Said, Wadi El-Gedid, Fayoum, Menoufia and Suez would become slum-free by the end of 2018, pointing out that 215,000 housing units are targeted to be developed in these areas.

President Sisi has sought to tackle housing problems in Egypt, and a plan was set to develop many unsafe areas in Cairo, which has the majority of Egypt's slums, and to re-house residents of Egypt's most dangerous slums. The government divided the slums into two categories. The first is the dangerous slums; the government pledged to eliminate dangerous slums by the end of 2018.

In this regard, Prime Minister Moustafa Madbouly witnessed on July 9 the signing ceremony of two cooperation protocols between Cairo governorate and the new Urban Communities Authority.

The protocols were signed by Cairo Governor Atef Abdel Hamid and Deputy Chairman of the NUCA Mazen Hassan in the presence of Deputy Housing Minister Assemel-Gazzar and other officials to develop El-Mawardi area, Al-SayedaZeinab.

Gazzar said that the two parties agreed on developing the unsafe area of El-Mawardi, Al-SayedaZeinab, which stretches over an area of 3.35 feddans, explaining that the protocol comes within the framework of the development project of Tal Al-Aqareb area in Al-SayedaZeinab.

Gazzar explained that Cairo governorate's vision aims to restore the city's vital role as Egypt's capital, and focuses on evacuating some areas in Cairo to be able to develop and use these areas in cultural and urban activities.

In May 2016, President Sisi promised to move all those living in slums to new flats over 3years as part of an ambitious project expected to cost about LE 14 billion ($790 million).

In the same context, the Tahya Misr (Long Live Egypt) Fund, launched by Sisi in 2014, has been working on a three-phase strategy to eliminate Egypt's shantytowns and re-house slum residents, including those living in Doueyka, Establ Antar and EzbetKhair Allah. The project includes 15,000 housing units to re-house 60,000 slum residents. The first two phases of Tahya Misr are comprised of 12,000 flats. The third phase opened in 2017 and is comprised of 20,000 flats.