Within the conclusion of Cairo, Capital of Islamic Culture.. Minister of Culture and Director of ISESCO: Cairo will remain a shining light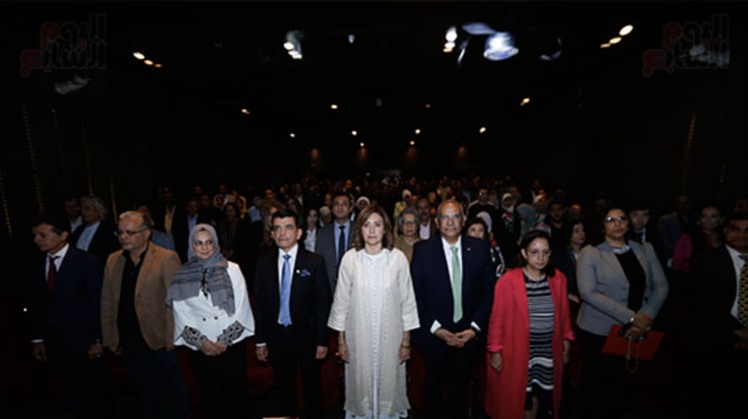 Sun, Mar. 12, 2023
As part of the closing activities of Cairo, Capital of Islamic Culture, Minister of Culture Dr. Nevin Al-Kilani, Dr. Salem bin Muhammad Al-Malik, Director General of the Islamic World Educational, Scientific and Cultural Organization (ISESCO), visited many cultural and artistic events, and Engineer Muhammad Abu Saada, Head of the National Coordination Agency Al-Hadari, in front of Al-Hanager Square in the Egyptian Opera House, which included performances organized by the General Authority for Cultural Palaces, and an exhibition of traditional crafts that included handicrafts and textiles organized by the Cultural Development Fund.

The Minister of Culture and the Director of ISESCO went to the Hanager Theater to announce the names of the winners of the My Heritage competition. The ceremony began with a video presentation on Cairo, the capital of Islamic culture, and on the activities presented by the culture on the occasion of this selection.

Nevin Al-Kilani said: A year ago, it was announced that Cairo was chosen as the capital of Islamic culture, to present its fields to highlight the arts and its impact, to provide opportunities for culture lovers to engage in activities everywhere, by presenting activities, exhibitions, residences and conferences.

The Minister of Culture stated that we presented a cultural year charged with tangible and intangible cultural history with multiple components.

For his part, the director of ISESCO said, "We entered it in peace and security, and we are about to bid farewell, so we leave with gratitude. Did the stories of Cairo come between its exhibitions, its arts, its films, its pens, its flowers, its pulpits, its Nile, its voices, the resonance of An Kulthum, the throat of Abdel Wahhab, and all the way to Muhammad Mounir and Medhat Saleh?"

ISESCO Director explained, We thank everyone who contributed to producing these distinguished artistic events that were presented during the year, and he also thanked the city of the pyramids, which we loved, and concluded his speech by saying: Cairo will remain a shining light.

The program of activities for choosing Cairo as the capital of culture in the countries of the Islamic world was launched in April of last year, with a huge celebration in the northern wall of Cairo. In addition to the Ramadan creative agenda for the year 2022, which included 1,479 intellectual and artistic events, in addition to the celebrations titled "Egyptian Centipedes", which aim to celebrate the symbols and flags of Egypt who have enriched the country's records in various creative fields for a century.