The Farouk Hosni Foundation for Culture and Arts receives the Director of the Brooklyn Museum and the Board of Trustees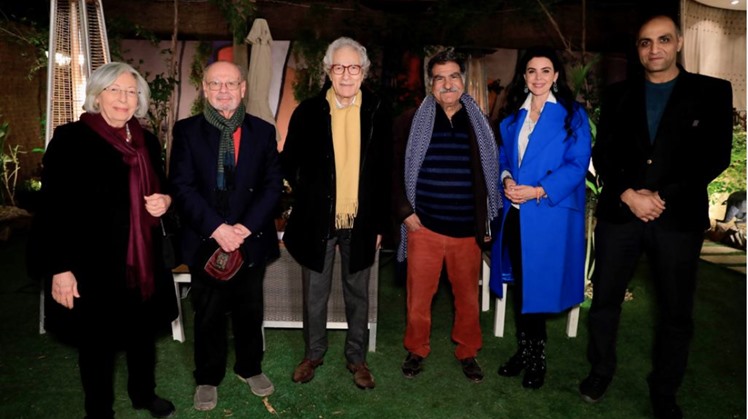 Fri, Feb. 3, 2023
Yesterday, the Farouk Hosni Foundation for Culture and Arts received a high-ranking cultural delegation from the Brooklyn Museum of Art in New York, USA, consisting of the museum's director, Anne Pasternak, members of the museum's board of trustees, and many art advisors and art experts at the museum.


They were received by the artist Farouk Hosni and members of the Board of Trustees of the Farouk Hosni Foundation for Culture and Arts, most notably the great archaeologist Dr. Zahi Hawass, the great writer Professor Muhammad Salmawi, the journalist Jasmine Taha Zaki, Dr. Alia Abdel Hadi, the poet Wael Al-Samri, the artist Ihab Al-Labban, Mrs. Enas Luqa and Ahmed Al-Dabaa.


Artist Farouk Hosni said in the meeting that the Foundation is very proud of this visit, and added that the Brooklyn Museum of Art is the second largest museum in the state of New York in the United States of America and offers distinguished activities and plays an effective role in spreading the spirit of culture and art, appreciating the keenness of its board of trustees and the experts accompanying it to visit The Foundation and meeting its Board of Trustees, stressing that such friendly cultural visits play a major role in the convergence of cultures and the sustainability of creative knowledge dialogue, which leads to mutual cultural openness.

The delegation visited the Foundation's museum and showed great interest in learning about the activities offered by the Foundation. The delegation also toured the museum, where they learned about the artworks contained in the museum, which consist of the artist Farouk Hosni's artistic holdings and his most prominent paintings that reflect Farouk Hosni's various stages of art. .

At the end of the meeting, Anne Pasternak, Director of the Brooklyn Museum, thanked the artist, Farouk Hosni, for the good reception and hospitality, expressing her great admiration for his influential personality, his fine art, and the museum's collections and the diverse institution. She also invited the artist, Farouk Hosni, to visit the Brooklyn Museum in the near future.


The meeting was attended by a group of personalities and artists, most notably the great artist Mohamed Abla, the artist Samir Fouad, the artist Nazli Madkour, the artist Onsi Abu Seif, the artist Ahmed Ragab Saqr, the artist Issam Darwish, and they exchanged discussions about Egyptian art, modern and contemporary art.