Specialists: Museums have succeeded in documenting Egyptian history, and Egyptian tombs preserve ancient secrets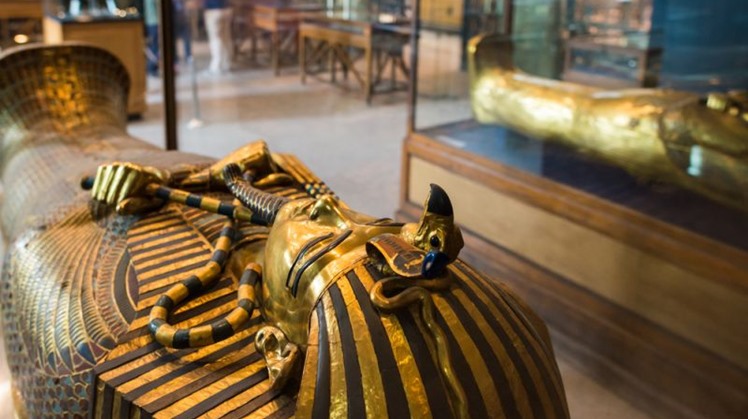 Sun, Nov. 6, 2022
Specialists in history have emphasized that writing, documenting and writing history in the era of digitization and technology needs accuracy, reliability and honesty more than ever before, noting that at a time when museums of all kinds, traditional or digital, are a major tool in documenting history, mental memory cannot be dispensed with. In conveying this history as it should, pointing out that the dialectical question "Who writes history?" It will remain in dispute due to the different agendas, interests, and honesty in conveying the events as they happened.

These questions revolved around the symposium "Writing History in the Digital Age" hosted by the Sharjah International Book Fair 2022, as part of the "Italy" program, the guest of honor of the international event. The session was hosted by Sheikha Al-Jabri, the Emirati researcher and writer, and Christian Greco, the Italian Egyptologist. The media session was moderated by Iman Al-Youssef.

Sheikha Al-Jabri said, "The task of writing history is very sensitive and dangerous. The question always lies about whether this history is written in its true form, or are there considerations regardless of their nature?" That is why the UAE's interest in this issue from the beginning, as the late Sheikh Zayed, may God have mercy on him, worked to establish a museum in the city of Al Ain even before the establishment of the union, to work on documenting the history of the Emirates and the region as it is. Therefore, today we are proud of the history of our country and the legacy and weight it bears, based on solid roots that we faithfully transmit to future generations.

Sheikha Al-Jabri added, In this era of tremendous technological and technological changes, it is of paramount importance that we work to build and establish young and young generations that carry historical content that we feed honestly and professionally, so that they are able to document the present and preserve the past, and become empowered to deal with the era of digitization while it is fully To prepare for this, our generations must be aware of what history is, and how important it is in building the present and the future, because we cannot rely solely on museums to preserve and document this history, even if they are digital museums, all of these tools ultimately resort to mental memory if they want to You really write honestly and accurately.

For his part, Christian Greco said, at a time when museums and libraries are effective tools for preserving history, I believe that public investments must be strengthened in consolidating this trend away from commercial companies that have their own considerations, and based on my work as an Egyptologist, I can see the volume of documentation And the preservation through which museums and even ancient Egyptian tombs were able to preserve the documented history in them, and through them we can read what the ancient kings wrote, and that is why Europe today includes more than 18,000 museums, and here in Sharjah is a very wonderful experience in this field, including It contains specialized Islamic museums or public museums.

He added, "Today, with the technological development we are witnessing, digital museums can also perform a wonderful task in preserving history if they are fed with digital custodians of content, as well as the concept of metaverse museums can constitute a huge revolution in this field, and at a time when the individual platforms that She talks about history and transmits it, despite its importance, but it is necessary to know and follow up on the sources on which it is based, the accuracy and the scientific method that it follows, and I believe that this lies mainly through the employment of public investments that are concerned with documenting history away from commercial purposes.