Discovering distinguished talents in the activities of the Decent Life Initiative.. Know the details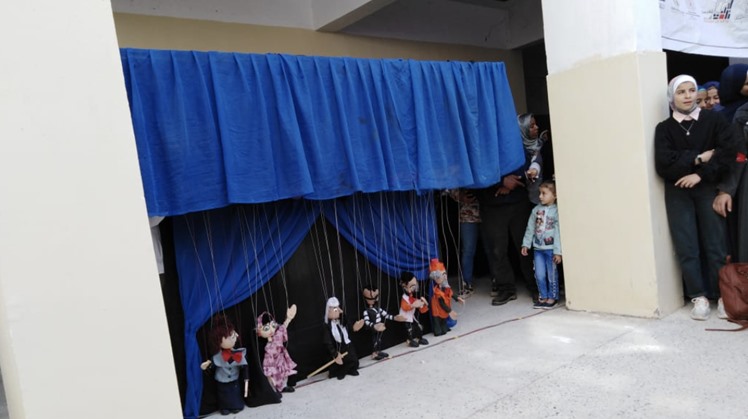 Tue, Nov. 30, 2021
The Ministry of Culture continues its cultural and artistic participation in the "Decent Life" initiative through the General Authority for Culture Palaces, headed by the artist, director Hisham Atwa, in the Fayoum Culture Branch in the Greater Cairo Region and North Upper Egypt, headed by the artist Jalal Othman, in the villages of a decent life in the Itsa Center in Fayoum Governorate, which is provided by the Central Administration for Studies The research, headed by Dr. Hanan Moussa, in cooperation with the Directorates of Youth and Sports, Education, the National Council for Women, the Fayoum Addiction Control and Treatment Fund, will continue until November 30.

Several events were held in the 6th of October Industrial School in the village of Tetoun, including three first storytelling workshops entitled "Facing Rumors and False Ideas" moderated by coach Khaled Ali, during which he addressed the definition of the concept of rumor, its sources, the purpose of its transmission, and explained the reasons for its rapid spread, and the types of recipients who are either monetary or Passionate, and stressed the need for thinking and working the mind to confront the rumor and prevent its spread, and a dialogue session was held entitled "Early Marriage" for trainer Walaa Muhammad, in which she discussed the concept of early marriage, its causes, its consequences, and on "facilitation skills" a storytelling workshop was conducted by Marwa Mahmoud, in which she discussed the definition of early marriage. With the most important conditions that must be met by the trainer, through which he can communicate the information in a simple and clear way, including moderation in the session, the importance of clarity of words and their meaning.

Among the activities, several art workshops were held, including two drawing workshops, the first to teach the basics of drawing, the second to draw a mural for Fayoum landmarks, a handicraft workshop for making pillowcases using tentacles, ceramic paste, an accessory for making friendship bracelets, beading, wicker, a macrame workshop, in addition to a painting workshop. Egyptian agriculture, in addition to a beading workshop, includes a storytelling workshop about a decent life project and its impact on the Egyptian village, and a workshop to discover talents in singing.

The activities concluded with an artistic segment that included the presentation of talents in national and religious singing, including Hajar Muhammad, who was well received for her performance of a song about the mother, and another religious one from the audience, followed by a performance of the marionette puppet theater, led by Ahmed Salah, in addition to the performance of the Shanta Theater on "pollution", in addition For an artistic presentation in Alarajouz.

On the sidelines of the celebration, an art exhibition of cultural palaces publications was held.