40 winners nationwide won the National Reading Project Awards.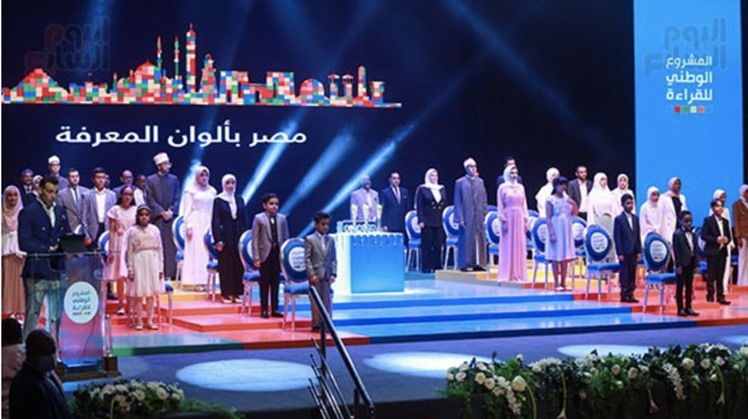 Mon, Oct. 18, 2021
The Scientific Research Foundation (Egypt-Dubai), the founder and supporter of the national project for reading, held a closing ceremony for the first session of the project at the Grand Theater of the Opera House. The celebration includes announcing and honoring the winners of the first session at the level of the Republic.

More than 40 readers succeeded in reaching the podium and winning the project prizes, with a total value of 20 million pounds. Cultural Egypt regionally and globally in line with the state's vision for the year 2030.

At the end of the ceremony, the winners were announced; 20 students won the "Educated Student" competition, and this year's competition title was won by Ashrakat Gamal Aboul Fotouh, a secondary school student at Bani Mazar School in Minya Governorate.

10 students won in the Diamond Reader category, and the competition title and cup for this year was won by the student reader Mohamed Taha, a student at the Faculty of Medicine at Cairo University, and 10 teachers won in the educated teacher category. in grammar.

As for the fourth dimension, the Enlightenment Institution, 6 institutions were selected as candidates for the incentive rewards to continue the development process and achieve the project standards according to a plan agreed upon for joint work with the Scientific Research Foundation to qualify for the title. These institutions are: (General Authority of National Library and Documentation, Public Library of Egypt In Giza, El Salam Primary School in Dakahlia, Abdel Rahim Scientific Kindergarten in Qena, Heliopolis Library in Cairo, Manarat Heliopolis International School in Cairo.)

It is worth noting that the Scientific Research Foundation (Egypt-Dubai) launched the National Reading Project with the participation of the Ministry of Education and Al-Azhar Al-Sharif and in coordination with the Ministries of Higher Education, Culture, Social Solidarity, Youth and Sports. It is a sustainable project for 10 years, based on four main competitions: a competition in reading Among the students of Al-Azhar schools and institutes to obtain the title of "Educated Student", a competition in reading for university students for the title of "The Diamond Reader", a competition in reading for teachers for the title of "Educated Teacher", and finally a competition for community institutions to obtain the title of "Enlightenment Institution".

The owners of the first and second places will receive a prize of one and a half million pounds, and the other prizes range from a quarter of a million to 100,000 pounds up to 50 thousand pounds, in addition to a visit to the largest libraries in the world.