The Saudi ambassador to Azerbaijan visits the Egyptian pavilion in Baku.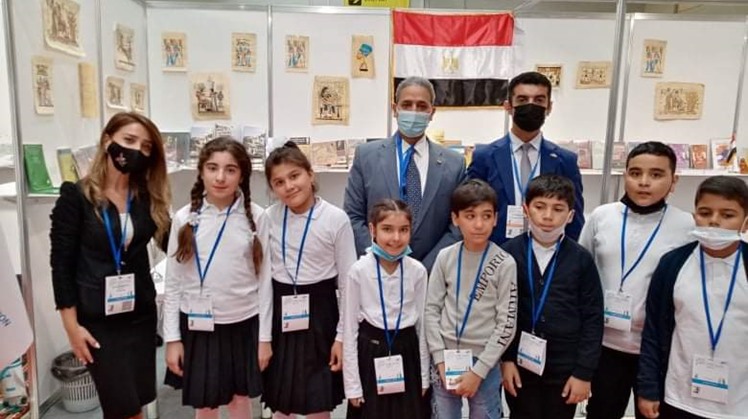 Mon, Oct. 11, 2021
Dr. Hamad bin Abdullah bin Khudair, the Saudi ambassador to Azerbaijan, was keen to visit the Egyptian pavilion at the Baku International Book Fair, which concluded its activities yesterday, Sunday, in which the Egyptian Ministry of Culture, represented by the Egyptian General Book Organization headed by Dr. Haitham Al-Haj Ali, was received by Osama Qassem. Supervisor of the Egyptian Pavilion.

The Baku International Book Fair opened last Wednesday, and the Egyptian pavilion was very popular with the public. It also witnessed special school visits from the children of the Arab communities in Azerbaijan, who were keen to take memorial photos inside the Egyptian pavilion.
It is worth mentioning that Egypt is the only Arab country to participate in this exhibition in its seventh session, which witnessed the participation of 23 countries and more than 400 publishing houses.

The exhibition was inaugurated by Ali Akhmedov, Deputy Prime Minister of Azerbaijan, accompanied by Anar Karimov, Minister of Culture, and Anar Razayev, President of the Azerbaijan Writers Union.

The pavilion included the latest publications of the Book Authority, including the Encyclopedia of Tharwat Okasha of Renaissance Art, and classics of Arabic literature translated, such as a book on pre-Islamic poetry by the Dean of Arabic literature, Dr. Taha Hussein, and others.