The third phase... the completion of all construction and restoration of 56 thousand pieces in the Grand Museum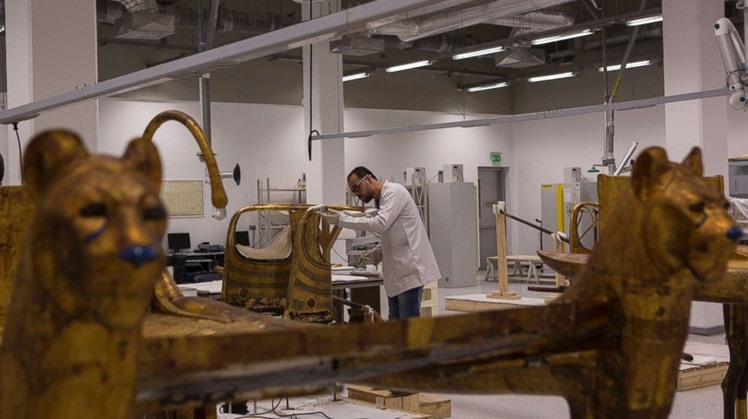 Mon, Sep. 13, 2021
The Grand Egyptian Museum is one of the largest archaeological museums in the world. Everyone is waiting for the time of its opening because it contains archaeological holdings exceeding 50,000 artifacts, including displaying the holdings of the golden king Tutankhamun for the first time in front of the public in full, and recently the government of Dr. Mostafa Madbouly confirmed, in a plan The economic and social development, approved by Parliament in its two chambers, "Representatives and Sheikhs," completes the third phase of the Grand Museum project during the current fiscal year 2021/2022, which comes as one of the important projects targeted in the tourism and antiquities sector, so what happened in the Grand Museum?

The installation of the artifacts in the lobby and the great staircase has been 100% completed, and careful restoration is now underway. All 107 showcases of the treasures of the young king, coming from Germany and Italy, have been installed in their final display places inside his halls.

Dr. El-Tayeb Abbas, Assistant Minister of Tourism and Antiquities for Archaeological Affairs at the Grand Egyptian Museum, said in exclusive statements to "The Seventh Day" that 70% of the implementation of the museum display of King Tutankhamun has been completed, as the scenario of the show that is being implemented on it has been completed. The artifacts have been placed in approximately 75 vats of the 107 containing the Golden King's possessions.

The roads surrounding the museum are also being developed, and by the end of this year it will reach 100%, and this is the state's vision and plan in conjunction with the connection with the pyramid plateau and the Grand Egyptian Museum, which will realize Aher's dream, which is the "golden cone" to eventually reach the museum's area of ​​3500 acres in addition to 250 acres, which is The area of ​​the plateau, with a total final area of ​​3750 acres, and there is no museum in the world on this area.

During this year 2021, the digital infrastructure works at the Grand Egyptian Museum have been completed by 90% (technical services that serve museum displays such as the digital museum and virtual reality) and the work of smart communication systems (ICT) has been completed by 80%.

In the same year, the implementation of the scenario of the museum display of King Tutankhamun's possessions began, which were presented for the first time to visitors, and which exceed 5,000 artifacts, displayed on an area of ​​7,000 meters.

From 2016 to 2021, more than 56,000 artifacts were restored, including most of Tutankhamun's holdings, which exceed 5,000 artifacts.