Head of National Museum of Egyptian Civilization: A tremendous turnout of foreigners to visit the museum on the first day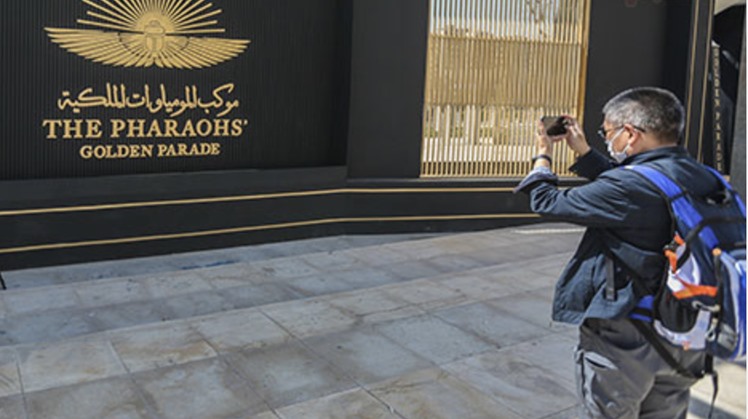 Tue, Apr. 6, 2021
Dr. Ahmed Ghoneim said, "We did not expect in the first days of the opening of the Museum of Civilization, this huge number of visits, as a large number of the public was keen to visit it from the first hours of the opening of the museum doors, to the point that we closed the hall more than once due to the increase in the number of visitors of different ages, children and youth." And the elderly, in order to preserve the application of social distancing between people, then we return and open it again during the day.

Dr. Ahmed Ghoneim explained, in exclusive statements to "The Seventh Day," as we noticed that there are a large number of foreigners from different countries of the world, "Europe, Asia, and Africa". She was keen to visit the museum on the first day of its opening, and everyone is enjoying all the pieces that were displayed. In the museum, everyone takes pictures with the artifacts, along with their reading of every explanation card included in each showroom.

Dr. Ahmed Ghoneim added that he was keen to pass by all visitors to ask them on their first impression of the museum, and all the answers were positive, as we were interested in knowing the extent of the impact of the service provided by the National Museum of Egyptian Civilization, not only from the archaeological point, but also other services such as Organizing the entry process, booking tickets, and the extent of the museum's security personnel's commitment to applying precautionary measures to confront the Corona virus, such as preventing entry to any visitor except by wearing a muzzle, in addition to the cleanliness of the museum, and if there is any negativity, it is addressed immediately, for the sake of the comfort of all visitors.

During the current period and until April 17, 2021, a 50% reduction in the price of the National Museum of Egyptian Civilization ticket was granted to Egyptians and foreigners for a period of two weeks, to visit the central exhibition hall, and during the two weeks following the opening of the museum, the mummies hall will be prepared and the mummies will be placed inside their two exhibition halls. Hall of Mummies Visitors starting next April 18, which coincides with World Heritage Day.

The prices of the museum tickets are: 200 pounds for a foreigner, 100 pounds for a foreign student, 60 pounds for an Egyptian, and 30 pounds for an Egyptian student, and the official page of the museum, a platform for booking tickets on the Internet, and an electronic reservation platform for museum entry tickets have been launched.