What does the ancient temple of Atripps contain, after its development by more than 5 million pounds?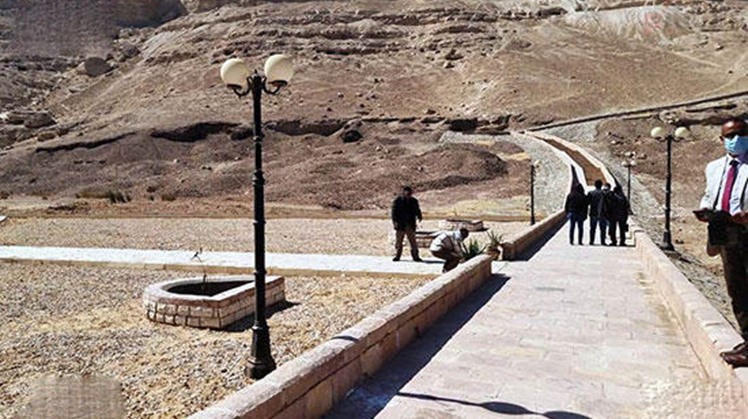 Sun, Feb. 28, 2021
The development of archaeological sites is carried out continuously in light of the Ministry of Tourism and Antiquities's keenness to preserve sites, open new places for visit, develop and raise the efficiency of tourism services in museums and archaeological sites, and recently the ancient temple of Atripis in Sohag Governorate has been restored and developed, and during the next lines we review an overview of the temple.

Atrium Temple
Attrips "Nag Sheikh Hamad now" is located about 7 km west of the city of Sohag, and it is an integrated archaeological city that was known as "whale-rabet" after the goddess "Rabbit", the local goddess, Lady Atripps, which appears in the form of a female lion, and it was the ancient city Affiliated to the ninth region of the ancient provinces of Egypt.

The area also contains three temples that have been uncovered so far, the most important of which is the temple dedicated to the worship of the idol "Min-Ra" and his wife "Rabbit" and their son "Colentis", which was built by King Ptolemy the XII "Auliitis" and completed by the Roman emperors.

The temple contains a portico with 26 columns, all surrounding the temple from the eastern, western and northern sides, and 3 rooms behind the Holy of Holies and all open in the direction of the north, which is opposite to the entrance to the temple, and the temple was discovered by the archaeologist Petri in 1907 AD, then the Egyptian Antiquities Authority adopted a project of excavations in it while Between 1983 and 1997, the "Egyptian-German" mission undertook to complete the discovery of its ruins.

During the restoration work, the Sheikh Hamad area was provided with many services, including the installation of surveillance cameras, instructional panels, the construction of a visitor building and a cafeteria, and a number of bazaars, in addition to the development of indicative and identification panels.