Mobile theater shows are continuing in the squares of Egypt despite the bad weather .. Pictures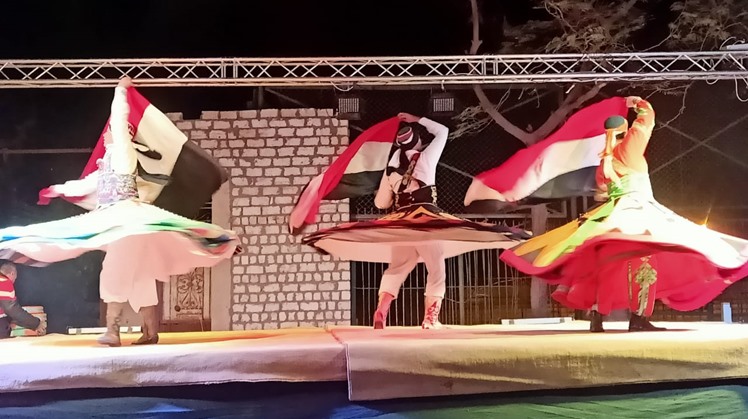 Sun, Feb. 21, 2021
Despite the bad weather and the frost wave that struck the governorates of the Republic during the past days, the opposition is in its seats in its special shows of cultural palaces in various places in the Egyptian governorates, as the Greater Cairo Region presented through the Suef Culture Branch and in cooperation with and the city of Al-Wasiti, the mobile theater shows for a period of three days .


The activities arose as artistic performances by the folkloric troupe, the Hajjalah dances, the Sahja, the Sarmati, the Moubayed el-Nahas, the Falahi, the Nubian and the Tanoura.

Performances by the Beni Suef National Band for Arab Music, led by Maestro Ahmed Mustafa Jalal, in the presence of the artist Jalal Othman, President of the Region, and Mr. Muhammad Bakry, Chairman of the Wasti City Council.

It is worth noting that theaters move comes within the plan to see intolerance and correct extremist ideas, as caravans of mobile theaters roam all over Egypt and return abroad through creative programs and all other forms of thought and art, new leap sessions in cultural justice and a window of cultural access to villages and border villages and the most needy.


The mobile theatrical caravans offer a special program for Arab music and the arts, and the caravans contribute to discovering talents in the villages that will be registered on a database, by presenting theatrical performances during the general regions theater of the General Authority of Palaces as well as by coordinating with the artistic house of the theater. , A leafy new play.


The caravans of the mobile theater set off from the "Asmarat 3" neighborhood, from 6 governorates: Cairo, the village of Mit Ghorab, the Sinbillawin district, the Dakahlia governorate, the Balana village, the Nuba center in Aswan governorate, the village of Jubail in the valleys in the Al-Tur governorate, South Sinai Governorate, the Rizqa village, the village of Deir Al Muharraq, Assiut governorate. The villages of Abu Al Matamir Center, Buhaira Governorate.


The theaters settle in every village for three to four days, then move to other villages within the governorates and then to the most needy areas in the various governorates of the republic.