Egypt's Min. of Antiquities: The announcement of a new discovery within weeks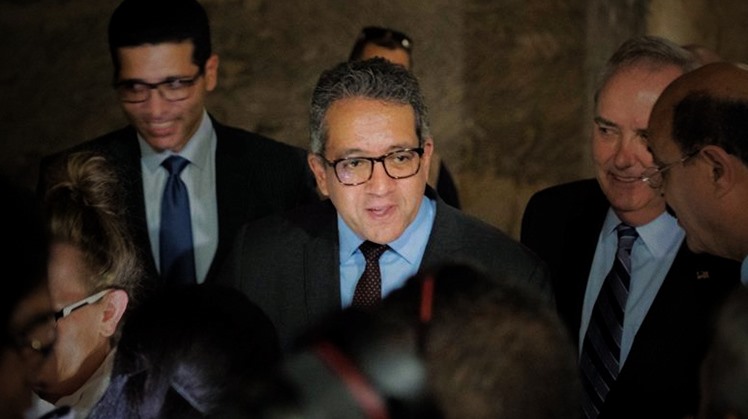 Sat, Nov. 14, 2020
Dr. Khaled Al-Anani, Minister of Antiquities, revealed that in the coming weeks, a new archaeological discovery will be announced by the Egyptian mission headed by Dr. Zahi Hawass, in the Saqqara antiquities area.

This came during the press conference held a short while ago, in the presence of the governor of Giza, the artist Yousra, and a large number of ambassadors and public figures.

Dr. Khaled Al-Anani explained that the state pays great attention to the archaeological file, and President Abdel-Fattah El-Sisi opened 3 museums in one minute last week, and this does not happen when a country in the world opened 3 museums with its antiquities except Egypt, for it is in Egypt.

Dr. Khaled Al-Anani, Minister of Tourism and Antiquities, said that the number of coffins discovered and extracted from the well of the Saqqara antiquities area exceeds 50, and there are still a large number of coffins that have not been extracted.

And the Ministry of Tourism and Antiquities announced the discovery of more than 100 coffins, in good condition of preservation, for senior statesman and priests from the 26th family, after completing the excavations that were announced last October, which resulted in 59 coffins.

Also found were 130 statues of different sizes, including a large number of gilded objects, wooden statues and colored and gilded masks in very good condition, and the coffins that were found were colored inside new wells buried in which the huge number reached 100 coffins, other than the 59 that were made. Discovered them before, in the same place, it hadn't opened at all and closed for 2,500 years.