Egypt, UAE to establish joint strategic platform , with a total investment of $20 B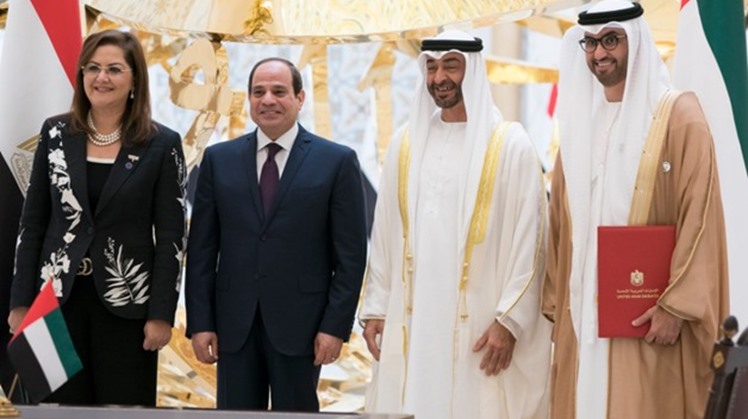 Thu, Nov. 14, 2019
CAIRO – 14 November 2019: Egypt will establish a new joint strategic platform with the United Arab Emirates, with a total investments of $20 billion, through the Abu Dhabi Development Holding Company and Egypt's Sovereign Wealth Fund, the Egyptian Presidency on Thursday announced.

The partnership aims to establish strategic joint ventures, specialized funds or investment instruments, to invest in several sectors, most notably manufacturing, traditional and renewable energy, technology, food and real estate, tourism, healthcare, logistics, financial services, infrastructure and others, presidential spokesman Bassam Radi added.

"Together with my brother, President Abdel Fattah El Sisi we launched a joint strategic investment platform between the UAE and Egypt worth $20 billion to implement vital economic and social projects for our brotherly countries," Mohamed bin Zayed wrote on his Twitter account.

Sisi has arrived in the UAE for a two-day visit starting Wednesday, and was received by Sheikh Mohamed bin Zayed, Abu Dhabi crown prince.

Sisi met on Thursday with Mohamed bin Zayed for the second time during the visit, where they discussed bilateral relations.

"I discussed with my brother, President Abdel Fattah El-Sisi, ways to strengthen our brotherly relations in various fields and enhance coordination on all regional and international events, as well as issues of mutual interest," Mohamed bin Zayed added.

The president's visit to the UAE comes within the framework of the Egyptian-Emirati special relations, and the two countries' strategic and cooperative relations at all levels, Radi said.

Radi also affirmed the two countries' keenness to coordinate continuous on ways to face challenges currently witnessed by the region, adding that such challenges highlights the need to the consolidation of efforts to protect the Arab national security.