It was my great honor to welcome President Al-Sisi to the White House: Trump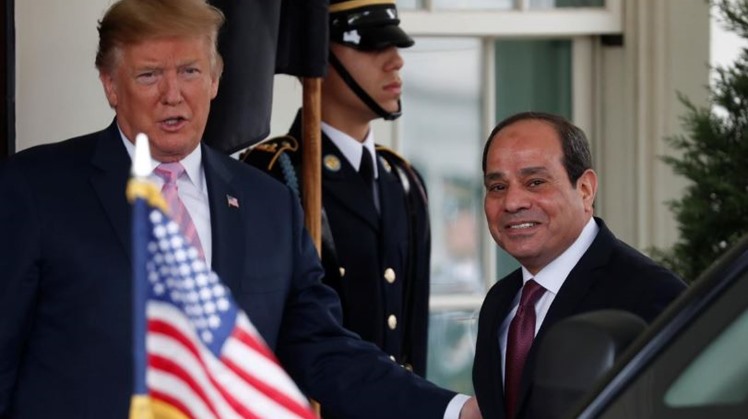 Tue, Apr. 9, 2019
CAIRO - 9 April 2019: U.S. President Donald Trump refereed to his meeting with the Egypt's President Abdel Fatah al Sisi on Tuesday through his official account on Twitter.

"Today, it was my great honor to welcome President @AlsisiOfficial of the Arab Republic of Egypt to the @WhiteHouse!", Trump stated on his Twitter account following his meeting with Sisi.




President Abdel Fatah al-Sisi thanked, on Tuesday, his American counterpart, Donald Trump for the efforts done by the U.S. to enhance the U.S.-Egyptian relations.

During the joint-press conference held shortly after Sisi's arrival at the White House, Trump welcomed Sisi saying that the two countries have developed their relations on many levels especially regarding confronting terrorism.

Earlier, President Abdel Fatah al-Sisi arrived, at the White House to meet his American counterpart, Donald Trump.

Sisi arrived the U.S. on Monday night and met with the United States Secretary of State Mike Pompeo. Both sides reaffirmed the strength and importance of the U.S.-Egypt bilateral relationship.

According to Spokesperson for the U.S. Ministry of Forghen Affiears Morgan Ortagus, Pompeo thanked President Sisi for his leadership in advancing Egypt's and the region's security and stability, including through counterterrorism efforts and countering the Iranian regime's malign influence.

The visit comes upon Trump's invitation to discuss bilateral relations as well as regional and international issues of mutual concern, said presidential spokesperson Bassam Radi.

The White House announced in a statement that the meeting comes in light of the continuing cooperation between both countries on economic, military and counter-terrorism levels.