In meeting with Kushner, Egypt's Sisi call int'l community to end suffering in Palestinian territory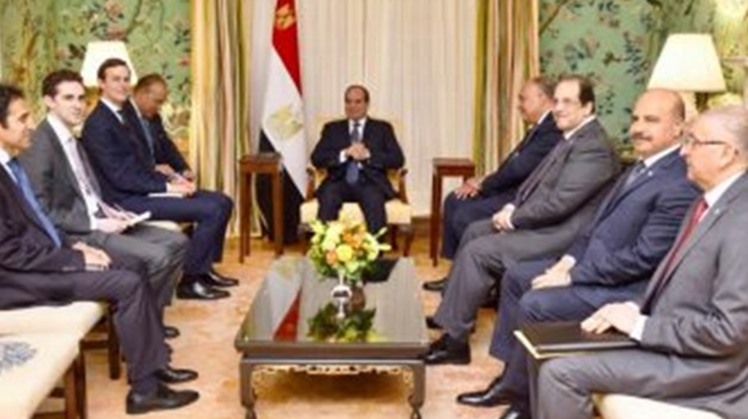 Tue, Apr. 9, 2019
CAIRO – 9 April 2019: Egyptian President Abdel Fattah al-Sisi met with Jared Kushner with White House Senior Adviser, at his residence in Washington, DC, according to a statement by the Egyptian presidency.

The meeting tackled the developments of the Palestinian cause and the peace process in the Middle East, on the first day of Sisi's current three-day visit to the United States.
The two sides discussed the latest developments of the Palestinian crisis and the Middle East peace process.

Sisi asserted that Cairo will continue to support sincere efforts to ensure "a just, lasting solution" to the Israeli-Palestinian conflict based on resolutions of international legitimacy, the two-state solution and the 2002 Arab Peace Initiative, preserving the inherent rights of the Palestinian people as this will help shape new reality in the Middle East and achieve the aspirations of its peoples for stability, building, development and coexistence in security and peace.

Moreover, Sisi asserted the need for the international community to take action in order to end the widespread human suffering throughout the occupied Palestinian territories, particularly the Gaza Strip, highlighting the recent Egyptian efforts to contain the situation in Gaza and ease the suffering of the residents of the Gaza Strip.

Kushner stressed that the US gives special importance to consulting with Egypt on the Palestinian situation, due to its important and influential position in the region and its expertise in dealing with all the parties concerned.

Sisi's visit to Washington comes upon Trump's invitation to discuss bilateral relations and regional and international issues of mutual concern, according to a statement of the Egyptian presidential spokesperson Bassam Radi on Friday.

The White House declared in a statement that the meeting comes in light of the continuing cooperation between both countries on economic, military and counter-terrorism levels.

"The two leaders will also discuss developments and shared priorities in the region, including enhancing regional economic integration and addressing ongoing conflicts, and Egypt's longstanding role as a lynchpin of regional stability," the statement read.