Egyptian, US foreign ministers discuss GERD and Palestine, stresses 'Cairo Declaration' as ultimate solution for Libyan crisis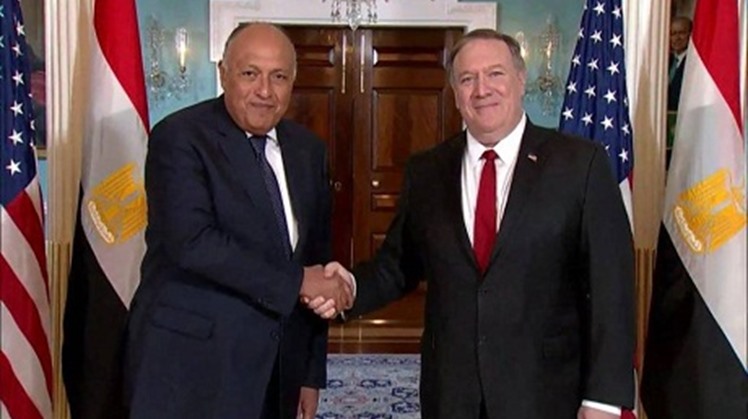 Thu, Aug. 6, 2020
CAIRO – 6 August 2020: Egyptian Foreign Minister Sameh Shoukry spoke to US Secretary of State Mike Pompeo by phone on Thursday and discussed with him recent developments in the region, covering primarily Libya, the disputed Grand Ethiopian Renaissance Dam (GERD), and the Palestinian issue.

Egyptian foreign ministry spokesman Ahmed Hafez said the two minister exchanged viewpoints on the proposed solutions to the crises facing the region, according to Ahram Online.

Shoukry presented Egypt's consistent stance on the Libyan issue and the efforts exerted to support the path of a peaceful settlement through the Cairo Declaration, which is part of the outputs of the Berlin summit, the foreign ministry statement said.

Libya has been split since 2014 between two rival administrations: the Libyan National Army (LNA), led by Khalifa Haftar, in the east, and the Tripoli-based Government of National Accord (GNA) in the west.


The Egyptian initiative was launched on 6 June by President Abdel-Fattah El-Sisi, Haftar, and Libyan parliament speaker Aguila Saleh. It involves a ceasefire, an elected leadership council and a longer-term peace plan for the country.

In the Thursday call, Shoukry also reviewed the latest developments related to the GERD, the subject of ongoing negotiations between Egypt, Sudan and Ethiopia that have yet to result in a comprehensive agreement.

The African Union-brokered talks stumbled on Tuesday when Egypt and Sudan rejected an Ethiopian proposal that they said backtracks on previous agreements reached during the talks.

Shoukry and Pompeo also touched on the Palestinian issue and the consultations that Shoukry held with Palestinian leaders during his recent visit to Ramallah.

The consultations between the two sides on a number of strategic issues come within the framework of bilateral relations, and as part of efforts to enhance them in all fields in a manner that achieves the common interests of Egypt and the US, Hafez said.