Shoukry highlights role of int'l institutions in drumming up support for climate work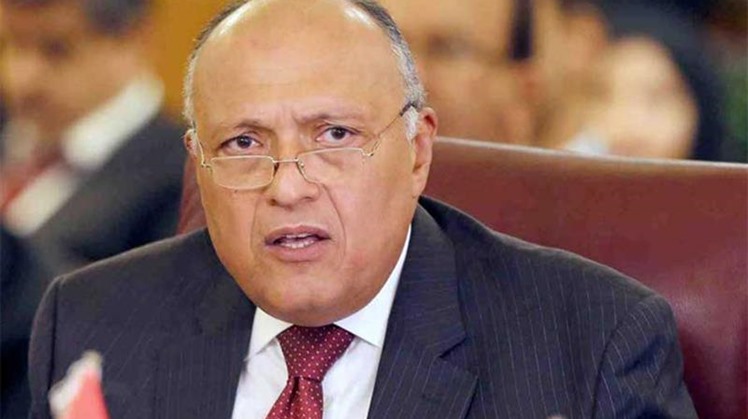 Mon, Jan. 16, 2023
CAIRO - 16 January 2023: Egypt's Foreign Minister Sameh Shoukry has stressed the importance of drumming up international support for financing climate work institutions including the Green Climate Fund.

Shoukry's remarks came during his meeting in Abu Dhabi with Danish Minister for Development Cooperation and Global Climate Policy Dan Joergensen on the sidelines of the Abu Dhabi Sustainability Week (ADSW) Summit, said Foreign Ministry spokesman Ahmed Abu Zeid.

Abu Zeid said Shoukry appreciated Denmark's contribution to climate work, citing a ministerial conference the European country hosted in May 2020 to honour pledges on climate.

Shoukry also appreciated the role of the Danish minister in facilitating climate negotiations and his efforts to reduce the effects of climate change.

The foreign minister, who is the president of COP27 conference, highlighted efforts to increase dependence on renewable energy and reduce dependence on fossil fuel. He said he hoped that Denmark would continue its efforts to support climate work.

Shoukry headed to the UAE capital on Sunday evening to be the keynote speaker at a ADSW's session, which due to be held on Monday, that is dedicated to discussing the outcomes of the COP27.

The Danish minister, for his part, hailed successes achieved during the COP27 climate change conference held in Sharm el Sheikh in November.

He said that he looked forward to pursuing coordination and consultations with Egypt's presidency of COP27 ahead of the COP28, due to be held in Dubai late this year.

On Monday, Mahmoud Mohieldin, UN climate change high level champion for Egypt, said during his participation in the Global Energy Forum held by Atlantic Council in Abu Dhabi that Egypt and the UAE will work together to enhance international climate action by building on what had been achieved at the previous COPs.

The Atlantic Council's Global Energy Forum is part of the ADSW the UAE is hosting 14-19 January. The ADSW is convening heads of state, policymakers, industry leaders, investors, youth and entrepreneurs, for impactful dialogues on the transition to a net-zero future.