Turkish FM Praises Egypt's support to his country to overcome earthquakes' impacts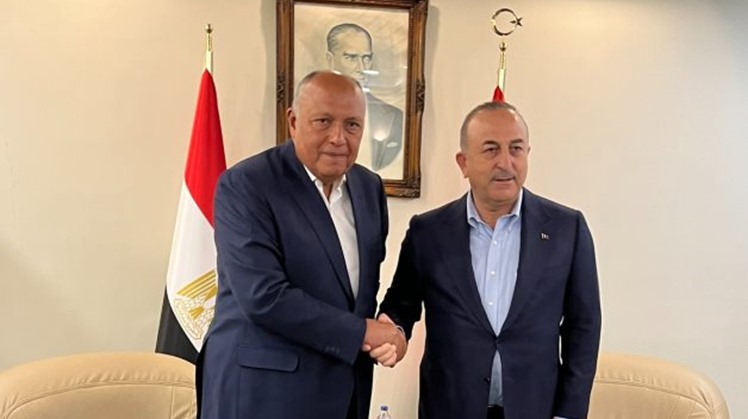 Mon, Feb. 27, 2023
CAIRO – 27 February 2023: Turkish Foreign Minister Mevlut Cavusoglu has hailed Egypt's support to his country to overcome the impact of the earthquake that struck his country on February 6.

In a joint press conference with his Egyptian counterpart Sameh Shoukry at Mersin Port, Cavusoglu said "we appreciate Egypt's support to us following the earthquake and we seek to open a new chapter in relations between the two countries".

He added that Egypt is an' important country' in the Middle East and the world, pointing out that there was a contact between President RecepTayyip Erdogan and President Abdel Fattah El Sisi, describing talks between the two sides as fruitful.

He also indicated that Cairo and Ankara will work during the coming period to strength relations and raise it to a higher level, pointing out that the visit of Minister Shoukry has a very great significance.

Minister Shoukry confirmed that his Turkish counterpart briefed him on his country's needs to face the repercussions of the devastating earthquake, noting that the Egyptian government, the Red Crescent and civil society organizations will work to provide those needs for the Turkish side after this devastating earthquake.

Egypt's Foreign Minister Sameh Shoukry arrived in Turkey, Monday where he was welcomed by his Turkish counterpart Mevlut Cavusoglu at Adana International Airport.

Foreign Ministry Spokesman Ahmed Abu Zeid said on Twitter that both officials held bilateral talks sessions in Adana.

Shortly latter, Shokry and Cavusoglu headed to Mersin port to receive Egypt's sixth shipment of relief materials as part of the Egyptian efforts to help deal with the consequences of devastating earthquake that left more than 48,000 people dead in both of Turkey and Syria.

Earlier in the day, Shoukry embarked on a tour of Syria and Turkey with the aim of conveying Egypt's solidarity message with both countries which were hit by a devastating quake on February 6.

In Syria, Shoukry was received by Syrian Foreign Minister Faisal al Meqdad upon his arrival, as the two top diplomats held bilateral talks, according to Abu Zeid

Shoukry also meet with Syrian President Bashar al-Asad, as he expressed his happiness visiting Syria.