Egypt's Sisi follows up progress of economic indicators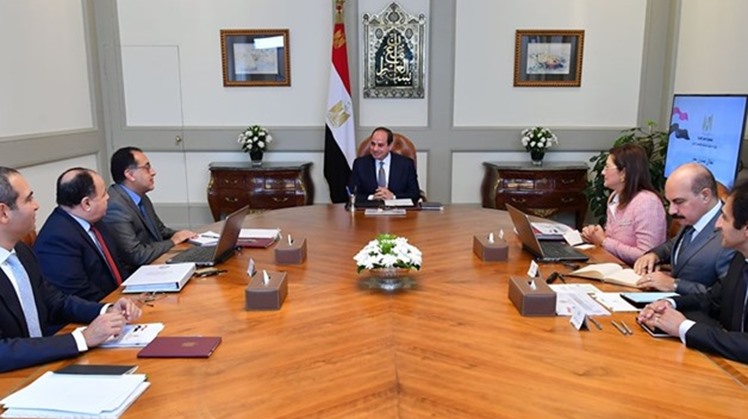 Sun, Oct. 27, 2019
CAIRO – 27 October 2019: Egyptian President Abdel Fattah al-Sisi held a meeting with the prime minister and ministers of planning and finance on Saturday to check the progress of economic indicators, the Presidency said in a statement.

Minister of Planning Hala al-Saeed, said the growth rate of the Gross Domestic Product (GDP) for the fiscal year 2018/2019 reached 5.6 percent — the best in 11 years, although global economic growth slowed to 3.8 percent in 2018 and is expected to reach 3 percent this year.

Sisi, during the meeting, ordered to exert maximum efforts to continue to achieve much positive progress concerning the economic indicators.

The president highlighted investment in the sectors that provide new job opportunities for citizens, especially youth, as a priority, presidential spokesman Bassam Radi said.

The meeting also discussed Egypt's sovereign fund and the efforts to develop the tax system. He directed, in this regard, to activate the role of the fund, in partnership with the private sector, to provide investment opportunities in new sectors.

Sisi directed to expand and accelerate the use of advanced electronic systems, to improve business and ensure collecting state revenues in a full and accurate manner, for the benefit of the national economy.

The International Monetary Fund, earlier in October, said Egypt's economy is expected to grow 5.9% in the year ending in June, Reuters reported.

Analysts have hailed Egypt for tough economic reforms tied to a three-year, $12 billion loan programme with the IMF agreed in late 2016, which has been disbursed in full.

The reforms included devaluing the currency by about half, cutting energy subsidies and introducing a value-added tax.