Egypt's Foreign Minister Urges China to Help Stop Attacks on Palestinians in Gaza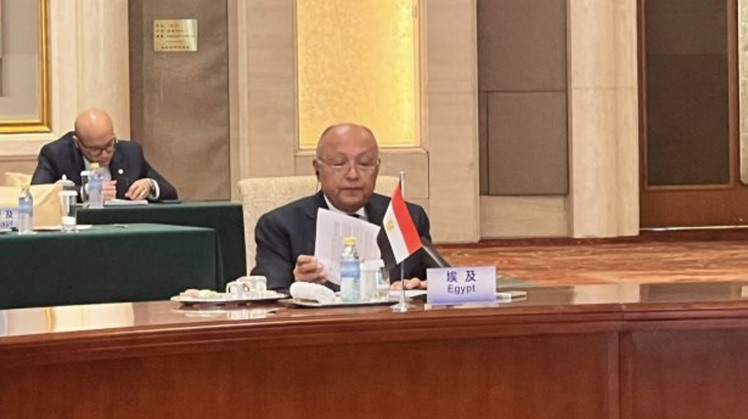 Mon, Nov. 20, 2023
Minister of Foreign Affairs Sameh Shokry stated Monday that Arab and Islamic countries look forward for super powers like China to play a significant role in ending attacks against Palestinians in Gaza Strip.




The minister added that some major countries "unfortunately" give cover to the ongoing Israeli aggression. He also pointed out that there was an announced policy to displace Palestinians from Gaza, which is rejected by both Egypt and the entire Arab World for it threatens regional and global security and stability.



Minister Shokry shed light on the Egyptian efforts to deliver humanitarian aid to Gaza, noting that the Israeli obstruction of the entry of the shipments is a systematic practice that is aimed at pushing Palestinians out of Gaza to escape shelling and siege.



The minister's statements came during a meeting with his Chinese counterpart among a delegation of counterparts from a number of Arab and Islamic countries.



The Chinese minister stressed that his country backed Arab and Islamic rights as well as international legitimacy. He also asserted the necessity of implementing the resolutions of the UN Security Council and the UN General Assembly on the crisis in Gaza, and of an immediate ceasefire.



The Chinese minister announced that his country would call for a UN Security Council meeting on the ministerial level, inviting the delegation's members to attend and voice Palestinian rights.



Minister Shokry started Sunday a tour to a number of permanent member states of the United Nations Security Council (UNSC) in order to push forward endeavors aimed at ending the ongoing war in Gaza Strip and dealing with the deteriorating humanitarian conditions.



The minister, accompanied by counterparts who are members of the committee formed last week during the Extraordinary Arab-Islamic Meeting, are set to meet with foreign ministers and political leaders. The committee consists of the foreign ministers of Egypt, Jordan, Qatar, Turkey, Indonesia, Nigeria, Palestine, as well as the secretaries of the Arab League (AL) and the Organization for Islamic Cooperation (OIC).