UK Prime Minister Rishi Sunak praises progress made at COP27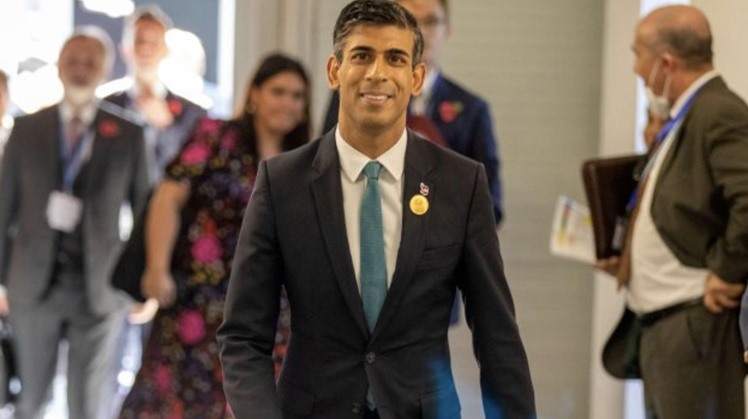 Mon, Nov. 21, 2022
UK Prime Minister Rishi Sunak welcomed the agreement reached at the 2022 United Nations climate change summit (COP27) in Egypt.

"I welcome the progress made at COP27, but there can be no time for complacency. More must be done," Sunak tweeted.

"Keeping the 1.5 degrees commitment alive is vital to the future of our planet," he added.

Foreign Minister and President of the UN Climate Change Conference, COP27, Sameh Shoukry underlined on Sunday the importance of taking into considerations all recommendations and decisions reached during the climate conference for a better future.



The decisions that were reached during the UN conference are tantamount to a gateway to advancing towards climate neutrality and resilience, Shoukry said at the closing session of the UN conference in the Red Sea resort of Sharm el Sheikh.



He called on everyone to consider these decisions not as words on paper, but as messages addressed to the world for future generations in order to set the appropriate pace for implementing the Paris Agreement.

Shoukry expressed appreciation for tireless efforts exerted by all participating delegations to reach these results.

The foreign minister called for taking into consideration all arrangements related to financing to be able to make up for damage created by climate change.

He called for adopting the Sharm el Sheikh Implementation Plan and to take appropriate decisions in this regard, urging the parties to the Paris Agreement to consider reports of the Adaptation Committee.

He said all adaptation-related issues were referred to the meeting of the Parties to the Paris Agreement for further consultations, calling for the adoption of the draft resolution titled "Adaptation Committee Report 2022".

He also called for considering Article 7 on the agenda titled "The Warsaw International Mechanism for Losses and Damage Associated with Climate Change Impact" and adopting decisions taken in this regard without any objection.

He called for taking into consideration issues related to the least developed countries, saying the implementing panel was unable to conclude discussions of this issue and was referred to the parties to the Paris Conference for further consultations.

The foreign minister called on the parties to Paris Agreement to adopt the conference's draft resolutions on the Green Climate Fund and climate measures regarding agriculture and food safety.

He called on the parties to Paris Agreement to look into articles regarding clean development and adaptation fund.