Egyptian President Sisi receives message from Russian FM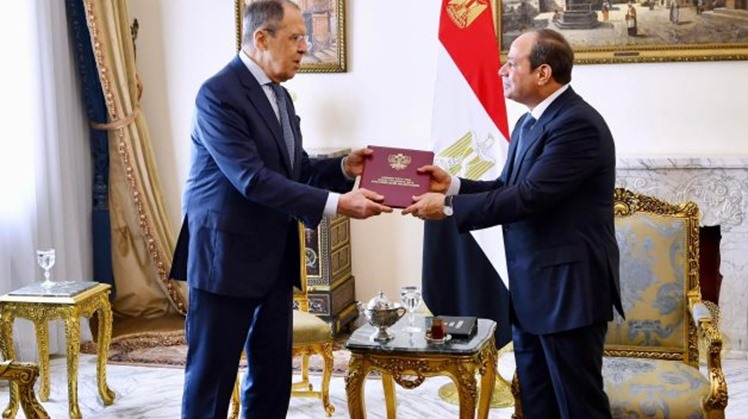 Sun, Jul. 24, 2022
CAIRO – 24 July 2022: Egypt's President Abdel Fatah al-Sisi received Sunday Russian Minister of Foreign Affairs Sergei Lavrov at Al Itihadiyah Presidential Palace to discuss bilateral relations and issues of mutual concern.


The minister delivered the greetings of Russian President Vladimir Putin, who expressed appreciation for Egypt's initiative to form a contact group at the Arab League with the aim of brokering a settlement to the Ukrainian crisis, and that visited Moscow earlier this year.



Putin also expressed in the message his eagerness for consolidating bilateral ties with Egypt within the framework of the Strategic Partnership Agreement signed in Sochi in 2018, and that is mostly embodied in the joint under-progress developmental projects.



In turn, President Sisi asked Lavrov to deliver his greetings to Russian counterpart, expressing appreciation for the current fruitful cooperation spearheaded by the Dabaa Nuclear Power Plant, and the Russian Industrial Zone (RIZ) located at the Suez Canal Economic Zone (SCzone).



Minister Lavrov informed President Sisi with the latest developments of the Ukrainian crisis and relevant Russian moves on the international scale. In that context, the Egyptian president asserted the salience of prioritizing dialogue, and political solutions, stressing Egypt's readiness to back that orientation within the international community.



The meeting also tackled the supply of grains and food, as well as the impact of the crisis on the oil and gas sector, as indicated by the Egyptian Presidency's press statement.



The meeting was attended by Lavrov's deputy, Russian ambassador to Cairo, Egyptian minister of foreign affairs, and deputy head of the Middle East and North Africa Department at the Russian Foreign Ministry.