Egypt's FM holds meeting with representatives of UK business community, funding institutions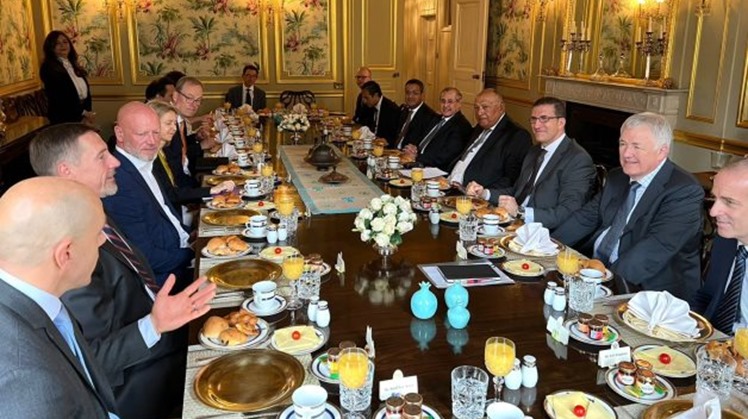 Fri, Jul. 8, 2022
CAIRO – 8 July 2022: Minister of Foreign Affairs Sameh Shokry met Wednesday with representatives of the UK business community and funding institutions during his visit to London, whose purpose was launching the UK-Egypt Association Council.



The minister displayed the economic reforms undertaken by Egypt since 2014, and Egypt's Vision 2030, which is aligned with the SDGs and African Union Agenda 2063.



Minister Shokry also presented the emergency measures taken by the country to mitigate the economic impact of COVID-19 and the Russia-Ukraine War. Most notably, he underlined that the Egyptian government is working towards the restructuring of the economy, which would not be accomplished without attracting foreign investments.



In that context, the minister showcased that investment opportunities in Egypt are quite diverse, and are mostly intertwined with the green economy concept. Similarly, he stressed that the Egyptian economy is able to sustain the strain ensued from the war like it did with the influence of the pandemic, achieving positive GDP growth.



Minister Shokry concluded by inviting the UK business community and funding institutions to actively participate in COP 27 Egypt is hosting in Sharm El Sheikh on November 7-18. He pointed out to the opportunities pertaining to financing environment-friendly enterprises, climate action, and green transition.