Egypt's Sisi inspects houses affected by floods in Aswan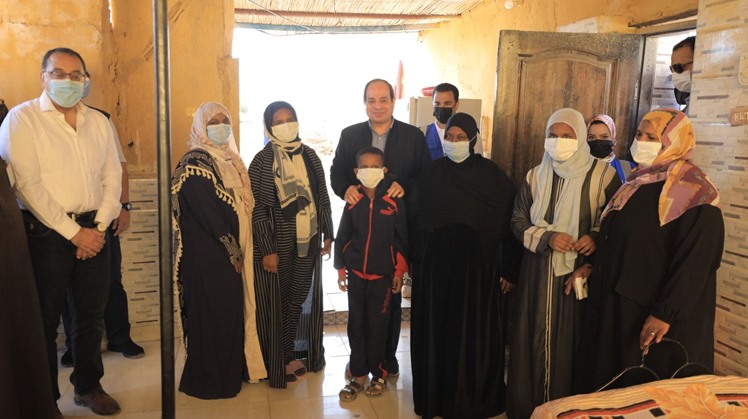 Thu, Nov. 25, 2021
CAIRO - 25 November 2021: President Abdel Fattah El-Sisi on Thursday morning visited West Aswan village, which has been affected by heavy floods last week, said Presidential Spokesperson Bassam Radi in a statement.


He followed up on services provided for the residents of this area by the medical convoys and units within the framework of "Decent Life" Initiative.


The President also visited a house of one of Aswan residents who were affected heavy floods in Aswan, Upper Egypt, talking with some residents.

President Sisi was briefed on urgent relief carried out by the Foundation of Decent Life to deal with this crisis that hit all affected villages in Aswan, in cooperation with the state's agencies and NGOs.

President Sisi directed to involve all villages in Aswan, Upper Egypt, in the presidential initiative "Decent Life." His instructions were given following his inspection tour of villages affected by heavy floods in Aswan.


Decent Life Foundation sent food and medical convoys to those who were affected by the heavy rainwater and helped restore some damaged houses.

A total of 500 houses were fully prepared for receiving the affected villagers.

Last week, torrential rains and strong winds have hit several cities in Upper Egypt, with estimated 2,000 families affected in Aswan in addition to 106 rural houses collapsed and many crops were damaged, according to media reports.

With the losses concentrated in the center of the city, houses at this area were exposed to bulk of rainwater and heavily harmed as they are built from mud bricks and palm-leaf roofs. Over 500 people in Aswan have been stung by scorpions and three were dead.