Egypt launches national consultations with WBG for climate action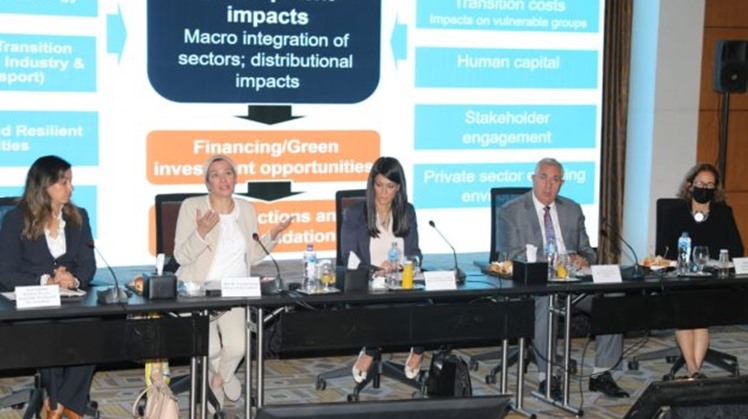 Fri, Sep. 24, 2021
CAIRO - 24 September 2021: Egypt's Minister of International Cooperation Rania El Mashat, and Minister of Environment launched national consultations with the World Bank Group (WBG) to discuss the general framework for climate action and the preparations for the climate and development report for Egypt, said the Ministry of International Cooperation in a statement on Wednesday.

The consultations, which was attended by a number of ministries and stakeholders, aim to identify the national mechanisms for assessing the effects of climate change on the economy and monitoring the steps taken to adapt to it in order to enable the government to evaluate and follow up these efforts in cooperation with the WBG, the statement added.

El-Mashat highlighted the value of the development financing agreements signed with the WBG in 2020, which amounts to $1.5 billion. "These agreements testify to the Ministry of International Cooperation's efforts to consolidate economic relations with multilateral and bilateral development partners to support Egypt's Vision 2030 and accelerate the implementation of the UN's 2030 Sustainable Development Goals (SDGs)," the statement said.

The Ministry of Environment is currently preparing to launch the National Strategy for Adaptation to Climate Change and Disaster Risk Reduction with the support of state ministries and the Green Climate Fund, which aims to attract investments to engage the private sector in climate action plans.

Fouad explained that this study will work on examining the effects of climate change on the economy so as to define the most affected sectors; this comes following rigorous scientific research to determine the needs of the Bank and the actual cost of relevant projects. In light of this, the agricultural sector has been identified as one of the priority sectors that was not given due attention like the energy sector.

Ms. Ayat Soliman, Regional Director of the World Bank Group's Sustainable Development Department for the Middle East and North Africa (MENA) region, expressed her content to launch these consultations with the participation of all state ministries and stakeholders in order to enhance the process of collecting the data required for the issuance of the report.

Marina Wes, Regional Director of the World Bank office in Egypt, Yemen, and Djibouti, thanked the Egyptian government for collaborating in curbing the repercussions of climate change, noting that the World Bank Group seeks to support national efforts in terms of climate action, given the importance of these initiatives to enhance national and regional development efforts led by Egypt.