Egypt's Sisi calls to deal with unilateral measures that contribute to exacerbating climate change consequences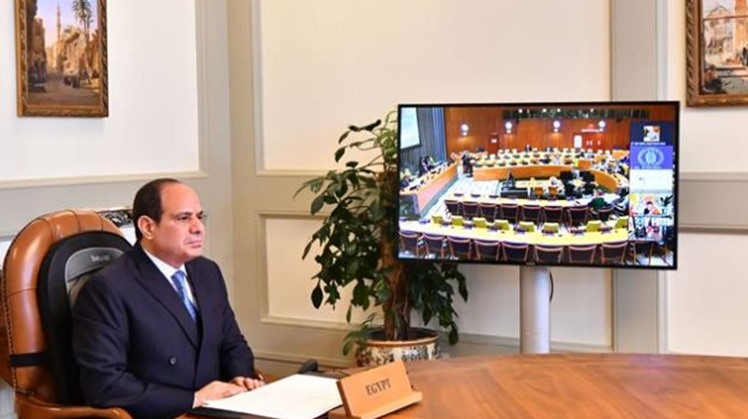 Mon, Sep. 20, 2021
CAIRO - 20 September 2021: At the virtual meeting of the Heads of State and Government on Climate Change on slides of the 76th session of the UN General Assembly (UNGA 76), Egypt's President Abdel Fattah El Sisi called for the necessity to seriously deal with any unilateral measures that contribute to exacerbating the consequences of climate change, at the top of which is the construction of dams on international rivers without an agreement with the downstream countries on the rules of filling and operating such dams.

"This sets within the framework of adaptation to climate change, which is a top priority for developing countries, especially in the African continent," he said on Monday, adding that Africa "suffers from severe consequences of climate change, especially the consequences that relate to water scarcity, drought, land desertification and the threat to food security."

Egypt, Ethiopia and Sudan are at loggerheads over building and operating a $4-billion dam on the Blue Nile River; Cairo voiced concern over its water share [55.5 billion cubic meters] after Ethiopia started building the dam on the Blue Nile in May 2011. In 2015, the three countries signed the Declaration of Principles, per which the downstream countries [Egypt and Sudan] should not be negatively affected by the construction of the dam. Since then, the three countries have failed to reach a comprehensive agreement on operating the dam and filling its reservoir with Nile water.

President Abdel Fattah El Sisi also affirmed that Egypt is looking forward to hosting the 2022 UN Climate Change Conference (COP 27), on behalf of the African continent, saying "Egypt will work to make a significant turning point in climate in partnership with all parties, for the benefit of the African continent and the world."

The President also called upon the developed countries to shoulder their responsibilities for reducing CO2 emissions in implementation of their international commitments, within the framework of the Paris Agreement and the UNFCCC, especially following the recent large-scale forest fires in various regions around the globe.

"Climate change has become a terrifying reality that calls for am immediate action to confront it," he said.