The Speaker of Canadian Senate George Furey praised Al-Sisi's counter-terrorism and combating extremists efforts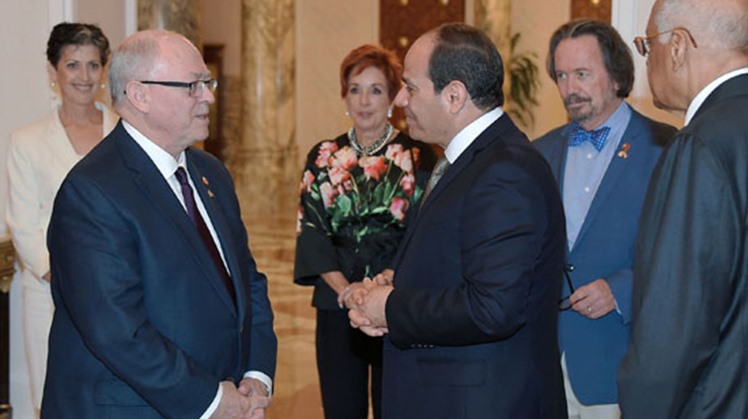 Mon, May. 20, 2019
CAIRO - 20 May 2019: President Abdel Fattah Al-Sisi stressed Egypt's keenness to uphold the principle of citizenship and consolidate the culture of pluralism and acceptance of the other. He pointed out that Egypt is a role model for peaceful coexistence in the region, which contributes to the efforts of bringing together different peoples and cultures. This came during President Abdel Fattah al-Sisi's reception of President of the Canadian Senate, George Ferry.

In this context, the Egyptian efforts have been reviewed in the field of combating terrorism, countering extremist thought, reforming religious discourse.

"The President of the Canadian Senate confirmed his keenness to visit Egypt and meet with the President, in the belief of Egypt's central role in the Middle East region and in recognition of the personal and leadership role of the President in combating extremist ideology and terrorism, and his leadership of the reformist approach in Egypt," Ambassador Bassam Rady said. "On the economic or social level, as well as the achievement of security and stability, which strengthened Egypt's active role in its regional environment in the context of supporting security and stability for the whole region as well as the African continent."

Ambassador Bassam Rady explained that the meeting witnessed a review of the bilateral relations between the two countries. The president expressed appreciation for the support and good treatment of the Egyptian community in Canada, which enabled them to excel in excellence and effective integration in many social, pointing out to the importance of investing the Egyptian community in their important role within the Canadian society in supporting and strengthening relations between the two countries at various levels.

President Al-Sisi stressed the special importance of the State to develop the educational system in all its stages and the importance of supporting the existing cooperation between the two countries in the field of basic and university education through the presence of Canadian universities in Egypt such as the Canadian University in the new administrative capital.

The President also reviewed Egypt's efforts for comprehensive economic and social reform, expressing his country's support for these efforts, taking into account the economic and investment opportunities in Egypt.

The meeting highlighted the state's interest in empowering women and young people. The president pointed to the high priority accorded to women's rights, especially in light of her pivotal role in efforts to rebuild the Egyptian state and face the challenges it faces and the sacrifices it has made to bear the consequences of economic reform. As well as its important role in the face of extremist ideology, which was reflected in the recent constitutional amendments to determine 25% of the proportion of seats for women as a minimum representation in parliament.