Egypt's Minister of International Cooperation discusses bilateral ties with Russian President's Advisor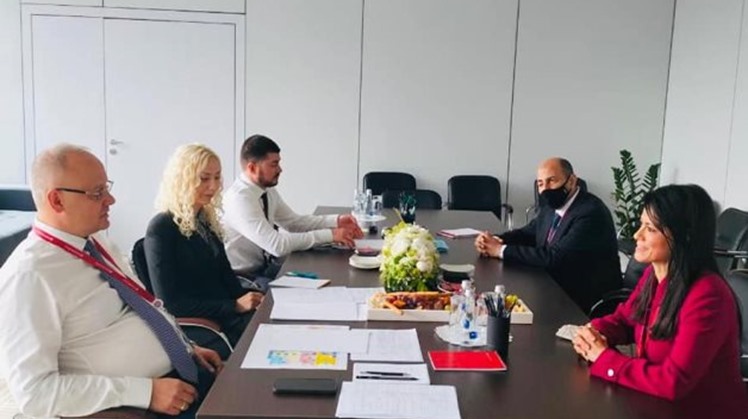 Thu, Jun. 3, 2021
CAIRO - 3 June 2021: Egypt's Minister of International Cooperation Rania A. Al-Mashat began bilateral talks within the activities of the 2021 St. Petersburg International Economic Forum (SPIEF) in a meeting with Anton Kobyakov, Adviser to the President of the Russian Federation, to discuss economic relations between Egypt and Russia.



During their meeting, Al-Mashat applauded the Egyptian-Russian strategic relations which extend to over 50 years. The recent period in particular has witnessed an unprecedented development, under the leadership of Egyptian President Abdel Fattah Al-Sisi, in bilateral cooperation between the two countries as both Egypt and Russia seek to achieve common interests in supporting economic growth.



Al-Mashat referred to the decision to return Russian tourism to Egypt in terms of resuming full air traffic between both airports, including Hurghada and Sharm El Sheikh after Al-Sisi and Russian President Vladimir Putin discussed what Egyptian airports provide for tourists, including safety and comfort. The resume of Toursitic relations aids in further developing bilateral relations and enhances tourism in both countries.



Egypt is the key to a stronger tripartite Russian-Egyptian-African cooperation; as for the trade, economy and investment fields, 40% of Russian trade that goes to Africa passes through Egypt. Moreover, Egypt's Presidential Infrastructure Champion Initiative (PICI) opens up prospects for the Russian-Egyptian-African partnerships to implement infrastructure projects.



Al-Mashat said that the first Russian-African summit held in October 2019 under the chairmanship of Egyptian President Abdel Fattah Al-Sisi and Russian President Vladimir Putin, was a strategic turning point in joint relations to support development on the continent. During the summit, both co-chairs adopted goals to develop in terms of Russian-African cooperation on all levels which led to the signing of 92 agreements and memorandums of understanding.



The strategic relations between Egypt and Russia are reflected in economic cooperation across various fields, such as the Dabaa Nuclear Power Plant worth $25 billion, and the Russian Rosneft Oil Company investing in natural gas. In the field of transportation, Russia supported Egypt by supplying and manufacturing 1,300 railway vehicles. Russia is also working to establish an Industrial Zone in the Suez Canal Economic Zone, attracting over $7 billion of investment.



The SPIEF, held since 1997 and annually organized in St. Petersburg in Russia, has been a leading global platform for the business community to discuss economic challenges faced by emerging markets, and other countries around the world.



More than 10,000 people from over 120 countries participate in the forum annually as it brings together heads of state from governments, ministers, deputy prime ministers, and CEOs of major Russian and international companies, foreign banks, leading experts and other political and business leaders.