President Sisi, Malaysian PM discuss ways to enhance joint cooperation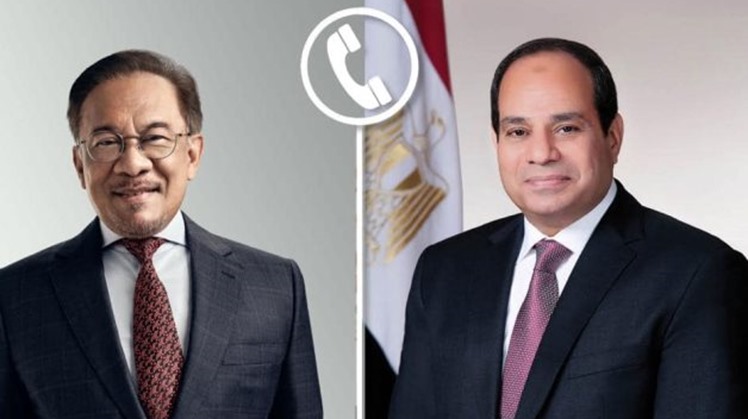 Mon, Feb. 27, 2023
CAIRO – 27 February 2023: Egypt's President Abdel Fattah El Sisi and Malaysian Prime Minister Anwar Ibrahim discussed means of enhancing cooperation between the two countries given their historical and outstanding ties.

This came in a video call received by President Sisi from the Malaysian premier on Monday.

Presidential Spokesman Ahmed Fahmy said the two leaders discussed ways to promote joint cooperation between the two countries, in light of their historical ties and distinguished bilateral relations.

The discussion touched on cooperation efforts in the fields of culture, tourism and education. They also discussed strengthening economic relations and trade exchange and increasing joint investments in the sectors of energy, communications and information technology, the automotive industry, and other areas that contribute to making the best use of the comparative advantages of each country and achieving economic integration and comprehensive development.

Fahmy added that the two leaders shared their visions on the most prominent regional and international issues of common interest and ways to achieve security and stability in the Middle East and at the international level, in light of the major challenges the world is facing.

The two sides also stressed the importance of continuing coordination and consultation in international fora to help address various issues, including combating terrorism and extremism at all levels, as well as intellectual and cultural ones.

In this regard, Malaysian Prime Minister also commended Egypt's key role facing terrorism, praising the role of Al Azhar Al Sharif and moderate Islamic institutions in Egypt.