Egypt's Sisi participates in 8th tripartite summit with Cypriot, Greek heads of state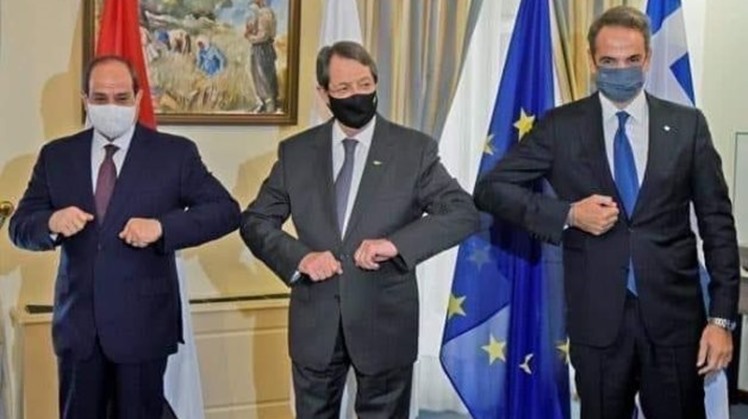 Thu, Oct. 22, 2020
CAIRO – 22 October 2020: The Tripartite Cooperation Mechanism Summit was held on Wednesday in Nicosia among President Abdel Fatah al-Sisi, Cypriot counterpart Nicos Anastasiades, and Greek Prime Minister Kyriakos Mitsotakis.



The summit is the eighth of its kind, and tackled ways of reinforcing cooperation among the three states, and stepping up consultation and coordination over political developments in the region, which experiences unprecedented challenges that threaten the security of Mediterranean states on multiple levels.



President Sisi said he is looking forward to further strategic projects by the three countries, particularly in the sector of energy, similar to the recently launched East Med Gas Organization, which had started out as a forum in January 2019.



The summit also discussed the developments in Libya and Syria as well as the Grand Ethiopian Renaissance Dam (GERD) issue among other regional affairs of mutual interest.



The president asserted the necessity of concerting efforts by East Mediterranean countries in the face of challenges. The three chiefs of state congrued upon the importance of reaching a comprehensive political settlement in order to guarantee the unity, independence, and safety of the countries in the region, and end the massive humanitarian suffering that those peoples have been going through over the past years.



The three heads of state conferred over the efforts deployed to combat illegal migration, terrorism, and extremism.