On GERD: Jordan supports Egypt's water right as part of Arab strategic security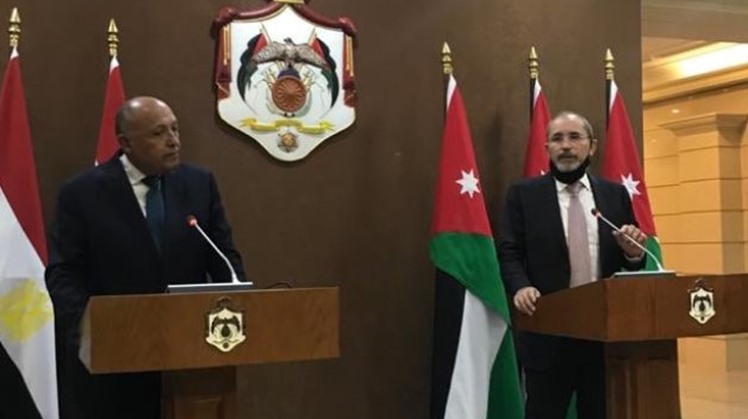 Sun, Jul. 19, 2020
CAIRO – 19 July 2020: Jordanian Foreign Minister Ayman Safadi hailed Egypt's stance rejecting unilateral measures on the Grand Ethiopian Renaissance Dam, saying that Egypt's water security is part of the Arab strategic security.

This comes few days after Ethiopian media claimed that the country has started filling the $4 billion dam, quoting the Water Minister as saying that "the construction of the dam and the filling of the water go hand in hand," Reuters reported.

Later on the same day, Ethiopia's Water Minister Sileshi Bekele denied the media reports, saying to The Associated Press that heavy rains are the reason for what has been shown by satellite images as the swelling of the dam's reservoir.

In a meeting with his Egyptian counterpart, Sameh Shoukry in Amman, Safadi expressed hope that the ongoing negotiations on GERD will finally lead to an agreement.

Concerning Libya, Shoukry affirmed the need for a Libyan-Libyan solution that would lead to ending the crisis in the country.

Shoukry said the incidents in Libya constitute a serious threat to the Egyptian and Arab national security, affirming that Egypt is seriously watching the situation in Libya and takes decisive procedures to preserve the Arab security.

The Egyptian minister warned against foreign intervention in Libya and the act of bringing foreign extremists to the war-torn country.

Shoukry also hailed the bilateral relations between Egypt and Jordan and highlighted Egyptian state's willingness to discover more fields of cooperation, to meet the aspiration of the peoples of the two countries.

During the meeting, Shoukry and Safado discussed the Palestinian cause and the dangers and consequences of Israeli annexation of Palestinian land. They affirmed the need to find a way to resume political process, in a way that leads to the establishment of a Palestinian state, with East Jerusalem as its capital.