Korean Language Speech & Writing Competition Held by Korean Cultural Center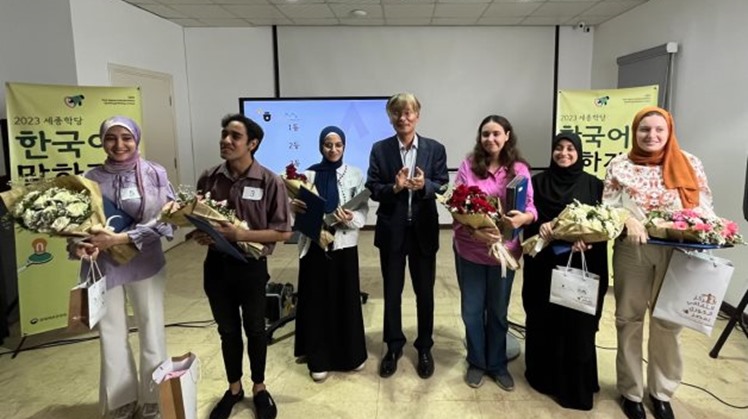 Sun, Jul. 9, 2023
The Korean Cultural Center in Egypt organized the 2023 edition of the Korean language Speech and Writing Contest for students of the King Sejong Institute.


A total of 22 students, who passed the preliminary round out of 46 applicants, were given the opportunity to showcase their skills in speaking and writing in Korean Language while sharing their own stories on their journey to learn Korean Language as well as their view on Korean culture.
The 1st place winner in speaking and writing categories will be eligible to take part in the final round to be held in South Korea next October, in addition to attending a Korean language training program for outstanding leaners.
Winners of each category in the final round will be given an opportunity for applying in a language study program at the Korean universities.
Oh Sungho, Director of the Korean Cultural Center, expressed his happiness at organizing the Contest, noting that the Korean language learners have been generally growing in Egypt as many young people enthusiastically seeks to learn and commanding it, while exploring Korean Culture.
'The Center plans to expand the Korean language education through accepting more applicants in the seasonal courses while opening new branch of King Sejong Institute in another city' he added.
After the evaluation of the jury composed of experts in teaching the Korean language, the results of the Contest were announced. Ayat Tarek won the first place in the speaking category and Nadine Yasser won the first place in the writing category.
Recently, the demand for learning Korean has increased, driven by the growing popularity of Korean culture and the global interest in Korean dramas, movies, K-POP music, and food.
The King Sejong Institute, a government-funded Korean language centre for foreigners, was established in 2007, with only 13 centres in three countries. However, in 2022, a total of 244 centres are being operated in 84 countries.