The American Times is betting on the Grand Egyptian Museum.. A new way to see history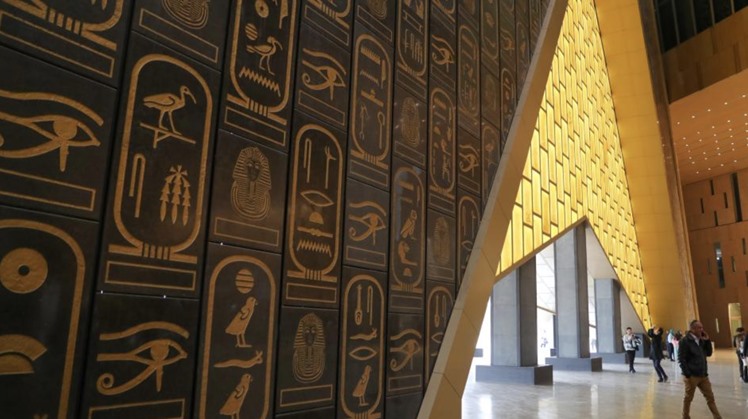 Mon, Mar. 20, 2023
The Grand Egyptian Museum is one of the largest international museums in the world, due to its vast area of more than 500 thousand square meters, in addition to the inclusion of a large number of artifacts that exceed 50 thousand artifacts, and recently the American Time magazine referred to the opening of the Grand Egyptian Museum as An important event during the year 2023, in addition to the pyramids of Giza topped the cover of the magazine after placing it at the top of the list of the 50 greatest places in the world in the field of tourism and travel, with the phrase "The best places on earth, a new way to see history by visiting the pyramids of Giza", and for this we review through the following report A glimpse of the Grand Museum.

The Grand Egyptian Museum is located only 2 kilometers from the Giza pyramids, on an area of more than 500,000 square meters, and displays the largest collection of Egyptian antiquities in the world. Which makes it a gateway to Egypt's past, present and future.

The Grand Egyptian Museum was designed to display the world's largest integrated collection of ancient Egyptian antiquities, and the museum includes thousands of unique artifacts, dating back thousands of years, in its various halls. The museum reflects the great diversity of Egyptian history and culture; To provide an enjoyable experience for visitors, characterized by creativity and knowledge, by combining culture and entertainment, advanced learning methods, and many other services, which enable visitors to learn about Egypt's ancient past and participate in its promising future.

The Grand Egyptian Museum displays the ancient Egyptian civilization, starting with the Hanging Obelisk Square, which is the first of its kind in the world and is the first artifact that receives visitors and directs them to the main hall known as the Grand Hall, where they are welcomed by the statue of King Ramses II, which weighs More than eighty tons, and from this place, visitors begin their journey to explore the ancient Egyptian history, through thousands of unique artifacts. Museum visitors will also see the full collection of King Tutankhamun's antiquities and treasures, in one place for the first time since the discovery of his famous tomb.

It also includes: a children's museum, a space for temporary exhibitions, a library, and an educational center, in addition to a center for the restoration of antiquities, equipped with the latest scientific technology. The museum also includes offices, a large theatre, a conference hall, a business area, and fine restaurants. As for the external part of the museum, it will include: a group of gardens, including the sculpture garden, the palm garden, and the terraced garden with a unique design.