Egypt's Min of Culture discusses with President of Goethe Institute in Munich the intensification of joint cultural cooperation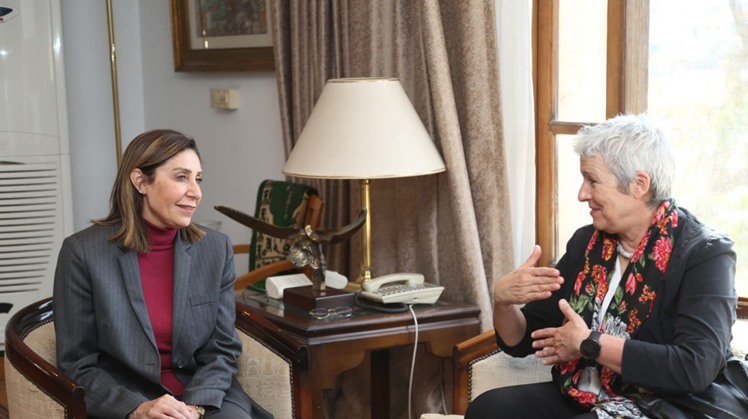 Wed, Mar. 1, 2023
Dr. Nevin Al-Kilani, Minister of Culture, met with Dr. Carola Lentz, Head of the Central Administration of the Goethe-Institut in Munich, and her accompanying delegation, to discuss intensifying cooperation between the Ministry and the Institute during the coming period, in addition to discussing the preparation of a program for cultural and artistic activities in Upper Egypt.

During the meeting, the Minister of Culture valued the cooperation with the Goethe Institute, which is one of the oldest institutions working in the cultural field, noting that the coming period will witness more cooperation in the cultural and artistic fields. She also called on those in charge of the institute to develop a joint action plan to establish the institute. More activities in the regions, especially in Upper Egypt, with a special interest in training young cadres on modern arts, and giving young artists the opportunity to learn about different cultures through cultural exchange.

For her part, Dr. Carola Lentz, Director of the Goethe Institute, emphasized the depth of the cultural relations that bring together the Egyptian and German sides, noting that Egypt is a large country rich in diverse cultural heritage at the level of all governorates, stressing that the institute as an institution always seeks to add more activities. And events in his busy program in Egypt.

The meeting was attended by Ms. Suzanne Hohan, Director General of the Goethe-Institut in Cairo and Regional Director for North Africa and the Middle East, Ms. Hannah Kovalo, Head of the Office of the Head of the Central Administration of the Goethe-Institut in Munich, Ms. Frederik Berge, Director of the Cultural Programs Department at the Goethe-Institut in Cairo and supervisor of the Middle East and North Africa region Ms. Ghada El-Sherbiny, Cultural Programs Officer, Department of Cultural Programs, Goethe-Institut.