The Academy of Arts of Uzbekistan invites Egyptian plastic artists to participate in the Tashkent Biennale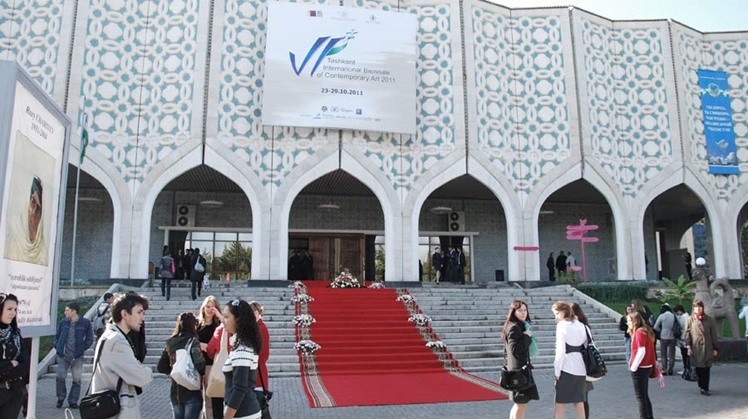 Tue, Sep. 13, 2022
The Fine Arts Sector announced that the Academy of Arts in the State of Uzbekistan invites Egyptian plastic artists to participate in the 9th Tashkent International Biennale of Contemporary Art under the title "The Artist and Society: Concepts of Future Art", to be held in Tashkent - Uzbekistan, from 24 to 28 October 2022.

In addition to the main exhibition, the Biennale hosts a number of cultural and artistic events such as exhibitions, lectures, master classes, an international conference and a city tour of Uzbekistan.

It is possible to participate in various fields of contemporary art, noting that the organizing committee bears all the costs of the participants' stay in Uzbekistan, except for international tickets.

Dr. Nevin Al-Kilani, Minister of Culture, accompanied by Dr. Khaled Sorour, Head of the Plastic Arts Sector, inaugurated the forty-third session of the general exhibition at the beginning of this September, at the Arts Palace, in the presence of Dr. Ahmed Ragab Saqr, the General Commissioner, Dr. Medhat Nasr, Chairman of the Screening and Selection Committee, and Dalia Mostafa, Head of the Central Administration of Arts Centers. , and a group of artists and critics.

Dr. Khaled Sorour said: "The public exhibition is an important event in the Egyptian plastic scene every year and serves as a mainstay for the most important and prominent experiences, and through criticism and analysis, the event puts the fine movement in front of a real and honest evaluation. It is also an opportunity for the public to watch this large number of diverse works." and different experiences.

For his part, the artist Ahmed Ragab Saqr explained that the title of the session, "The Contemporary Egypt", is a serious attempt to answer a thorny and confusing question (Is art... an abstract transferred image, or does it carry the soul of its owner and his inner self?) and that plastic art is the most art that has been exposed. For those questions, which is one of the components of the cultural identity of the homeland, and the opinions of historians almost gather that the first civilization in which this subjectivity was achieved was based on the banks of the great Nile.. What is our role as contemporary Egyptian artists? In an age where every moment is teeming with enormous material and civilizational changes that constitute a challenge to preserving the subjectivity of our material and spiritual civilization..."