Raising the efficiency of services at 13 archaeological sites, including the Philae Temple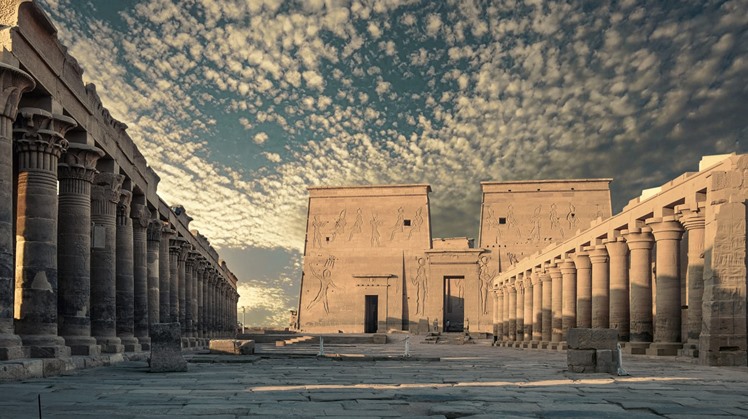 Sun, Jul. 31, 2022
The Ministry of Tourism and Antiquities has completed a project to raise the efficiency of visitor services in 13 archaeological sites and museums in Aswan Governorate. Among those sites is the Philae Temple, which is why we review its history in the coming lines.

The island of Philae was of great importance to the ancient Egyptian due to its distinguished location, as it and the island of Aswan formed natural geographical borders, and it was known in the Egyptian texts as the dividing line. The Arabic name "Anas al-Wujud" is associated with folklore stories, and the efforts of the Nuba Antiquities Rescue Fund have succeeded in transferring the entire island's antiquities to the neighboring island of Agilika.

Philae Temple
The ruins of Philae include many buildings dating back to the Ptolemaic period (332-30 BC), the most prominent of which is the temple started by Ptolemy II Philadelphus (285 - 246 BC), which was dedicated to Isis, the mother of Horus, the king of kings. A scene in the mammisi or birth room, where the birth of Horus was celebrated, showing Isis breastfeeding her son Horus in the bushes.

The "Temple of Isis" is the main temple on the island, occupying a quarter of its area. It was built by King Ptolemy II in the place of another smaller temple that was also dedicated to Isis and dedicated to the soldiers charged with protecting the southern borders of Egypt, and many Ptolemaic kings contributed to its construction.

It is noteworthy that the sites and museums that included raising the efficiency are: the temples of Edfu, Philae, Kom Ombo, Kalabsha, Isis, Abu Simbel, Amda, and Al Sebou, in addition to the Jebel Silasah area, Sohail Island, the missing obelisk, and the Crocodile and Nubia Museums, which were provided with all services. The necessary guiding and explanatory means commensurate with its nature and historical value, in addition to compatibility with the Aswan visual identity project, which is currently being implemented along the lines of what is being done in Luxor Governorate, in addition to developing visitor centers.

The project also included placing a number of guiding signs on the roads leading to these sites and museums, which were implemented in coordination with the governorate, and they were provided with maps that highlight the tourist and archaeological sites in Egypt in general and Aswan Governorate in particular. With panels implemented with the unified code, such as visit policy, appointments and ticket prices, as well as the hotline for complaints and suggestions (19546), and directions to facilitate visitors for ease of transfer within the archaeological site or the museum, as well as preparing the parking lots in Abu Simbel and Kom Ombo to receive visitor cars and tourist buses.