The story of the air dome in Aswan after the start of its restoration work in preparation for its opening to the public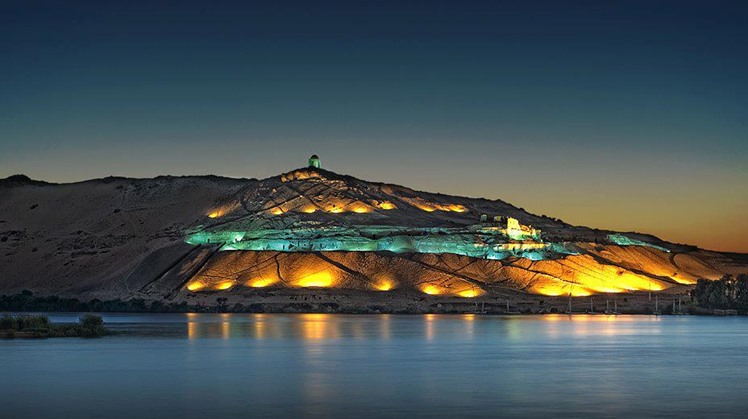 Thu, Jul. 28, 2022
The Supreme Council of Antiquities recently started a project to restore and develop a number of nobles' tombs and the Air Dome in Aswan, in preparation for opening them for visits during the next few period, within the plan of the Ministry of Tourism and Antiquities to restore and develop archaeological sites throughout the Republic, especially Upper Egypt, which works to make more archaeological sites available. For visitors, what do you know about the air dome?

It is known as the air dome tombs in relation to the tomb of Sheikh "Ali Abu al-Jawa" located at the top of the hill. These tombs were carved into the rocks of the hills northwest of Aswan, overlooking directly on the Island of Plants and the Island of Elephantine. They belong to a group of senior officials during the era of the Old and Middle Kingdoms, including: Harkhov, Sabni and Mikho from the Old Kingdom, and Sarnobot I and Sarnbot II from the Middle Kingdom.

The inscriptions recorded on the walls of these tombs highlight the important role played by senior officials and nobles in that period in terms of exploratory, commercial and military campaigns, including what we find written on the walls of the double tomb of the employee "Mukho" and his son "Sabni", which dates back to the era of the Sixth Dynasty that " Mokhu was at the head of a royal expedition to the south, and on his return, a Nubian tribe attacked him and killed him. His son, "Sabni", was only engaged in a campaign to bring his father's body and avenge him, as stated by the Ministry of Tourism and Antiquities.

Perhaps the most important of these tombs is the tomb of "Harkhof", the ruler of Elephantine and the head of royal campaigns, who recorded a text on the walls of his tomb enumerating his exploratory and commercial trips to the south, mentioning many ways, including "the oasis trail...the forty trail", as well as detailing his trade trip to Puntland.

It is worth mentioning that the restoration work being carried out in the Air Dome area comes in cooperation with the Egyptian-German joint mission headed by Dr. Frederica Seiferd on the German side and Dr. Abdel Moneim Said, Director General of Aswan Antiquities on the Egyptian side.