Tutankhamun's centenary.. Hawass gives a lecture on the golden pharaoh in Italy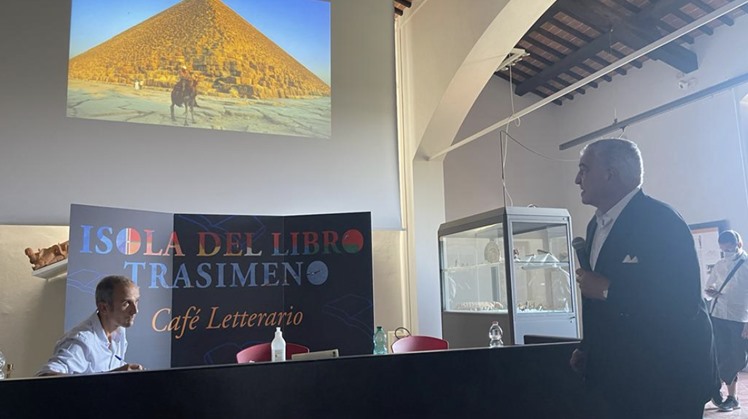 Wed, Jul. 27, 2022
The State of Italy invited Egyptologist Dr. Zahi Hawass to give a lecture on "Tutankhamun" in light of the celebration of Tutankhamun's centenary. This came in the presence of many public figures, archaeologists, university professors and many important figures in the historical city of Perugia, Italy.

In the Archeology Museum in Perugia, the hall in which Hawass delivered the lecture witnessed a heavy presence, and after the lecture ended, the movie about Tutankhamun was shown.

For the first time, when the museum closed after the lecture, the attendees continued to stay for a longer time and did not want to leave the place to talk to Hawass and ask him about his new discoveries and take pictures with him.

It is noteworthy that Marwan bin Turki Al Said, Minister of State and Governor of Dhofar, and Dr. Sultan bin Khamis Al Yahyai, ​​President of the Arab Center for Tourism Media, announced that Dr. Zahi Hawass, the Egyptologist, was named the Arab Heritage for the year 2023 in the Sultanate of Oman, at the Second Arab Forum for Tourism and Heritage.

The Egyptian archaeologist, Dr. Zahi Hawass, thanked all of the attendees, and said that this morning in which the Sultanate lives a very important event, which is the opening of the activities of the Second Arab Forum for Tourism and Heritage, which includes honoring the winners of the Arab tourism media awards for this year, so I am happy to be with you in this The event is hypothetical, and I would have been present with you until the last moments, due to circumstances that prevented me and you. But God knows how sincere my desire is to visit this beautiful country, the Sultanate of Oman, and especially this dreamy city, the city of Salalah in the Governorate of Dhofar, which hosts the activities of this forum.