The opening of my exhibition Full of Memories and Time Travelers at Galerie Picasso East.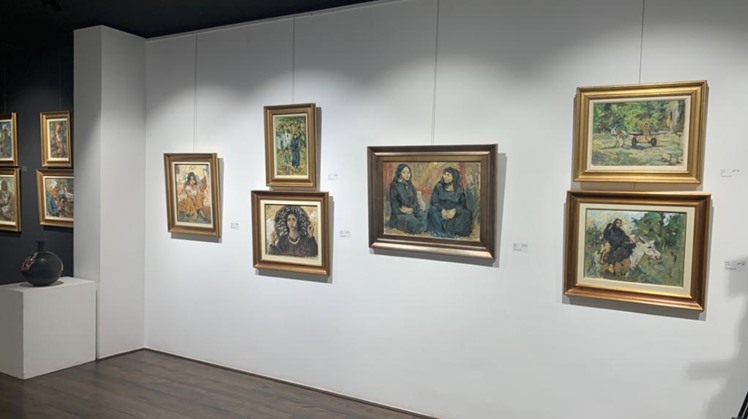 Sun, May. 22, 2022
Picasso East Gallery, Fifth Settlement, opened the two exhibitions of Mounir Iskandar, which bears "Full of Memories", and Lina Osama's exhibition, entitled "Time Travelers", yesterday evening, in the presence of a large number of plastic artists, Dr. Salah El-Meligy, Dr. Ibrahim Ghazala, artist Fathi Afifi and others. , In addition to many media professionals and some public figures.

The artist, Mounir Iskandar, said about his exhibition, that he presents at Picasso East Gallery his works that he produced during 2022 and 2021, in addition to displaying portraits painted during the past years.

Mounir Al-Iskandar explained that his artistic style, which depends on the influence school, has not changed much since his graduation in 1952 until now, but there are some new additions he made in the influential school and the academy.

Mounir Iskandar confirmed that he was a student of the largest professor of plastic art in Egypt, namely the artist Youssef Kamel, Ragheb Ayyad and Ahmed Sabry, denoting, "These taught us how to draw!"

For her part, Lina Osama said, about her exhibition, that every artist has his own personality that he presents in works. Each exhibition is different from the other, but the artist maintains the same style and method of presenting works.

Lina Osama explained that she studied photography at the Faculty of Fine Arts and also in Austria, and studied archeology and cinema. Everything she studied appears in the artistic paintings she presents, adding that the paintings include part of the drama and the chronological and historical sequence of animals that existed before history to the era of Egyptian life. Old.
Lina Osama continued, that most of her works are diagnostic, as the exhibition depicts "dream and reflections during the past two years", as for the materials used are mixed, in addition to the use of collage and printing.

In the same context, Reda Picasso, President of Picasso Gallery, said that organizing the exhibition of the artist Mounir Al-Iskandar and the artist Lina Osama came after a long search.

Reda Picasso stated, Lina Osama wanted to present her idea and how to present it, and an interview took place between her and me and Mounir Al-Iskandar, and from here the two exhibitions came out together because their artistic spirits are mutually agreeable and harmonious with each other. The two are looking for the same goal because culture and thought are one, adding that the common factor between the two In the exhibition, the simplicity of displaying their artwork.

The artist Salah El-Meligy also said, about Munir Al-Iskandar's exhibition, that Mounir's artistic experience continues well, because the method of treating color and dealing with work is very old, and this is what the influence school presents very clearly, as was presented, for example, by the great artist Hussein Bikar.

Salah El-Meligy pointed out that he is happy with what Mounir Iskandar offers when he is at that age and his long artistic career, and his feelings of color are very high and he is aware of distress, formation and construction at the highest level.

Salah El-Meligy added that for Lina Osama's exhibition, he has been following her works since her artistic beginnings. This exhibition is the first exhibition that she presents completely freely, because there are paintings with "sketches" and new elements, and this is a beautiful tone that we miss in the work of photographers today.