The Minister of Culture: Public turnout at the Cabinet Information Center pavilion at the Book Fair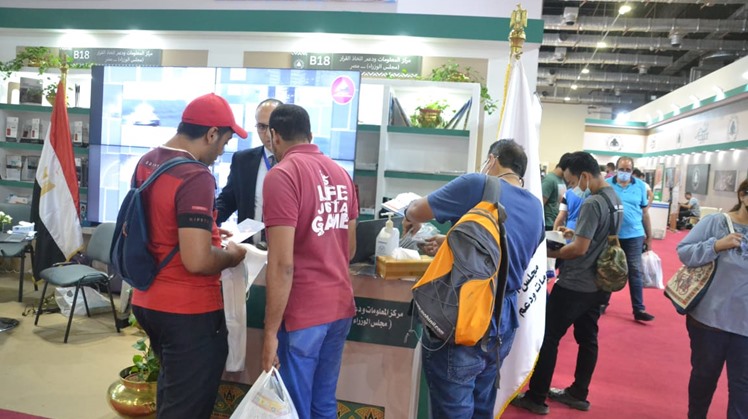 Wed, Jul. 14, 2021
Dr. Enas Abdel Dayem, Minister of Culture, praised the constructive success achieved by the first participation of the Information and Decision Support Center of the Council of Ministers, through its pavilion at the 52nd Cairo International Book Fair.



The field follow-ups of the exhibition's work team showed the size of the distinguished public turnout and the interaction of the exhibition's goers with the series of information services and applications carried out by the work team of the center's wing, which is the most important research center with outstanding leadership in providing information and statistics that are reliable in decision-making and decision-making, and also commended the efforts The efforts made within the framework of the cultural and intellectual cooperation exchange that took place between the Ministry of Culture and the Center to provide the best information services to the Egyptian public during the duration of the exhibition.



It is noteworthy that the center's pavilion aims to present a distinguished set of service programs to the public, including the center's publications, activities and achievements, and the various awards that the center won, with its topping the list of think tanks in the world, as well as promoting the electronic application that it recently launched under the name (IDSC), which is an important platform from Communication platforms with the public, through which the center provides updated data and information from its various sources; To shed light on the performance of the various sectors, the contents of the application amount to nearly 2000 values ​​and a statement element for local and international indicators, as well as the prices of commodities locally and globally, the most prominent indicators of stock exchanges, financial markets and exchange rates of various currencies.



It is worth noting that the center aims to provide information, support decision-making, enrich the information structure and make it available to the community of beneficiaries, especially that it has a library that is considered a distinguished Egyptian model for a library specialized in the fields of economic and social development, which would support the center's efforts by providing information sources of all kinds and forms, as well as databases. Which is updated periodically in order to support the center's orientations towards serving the decision maker.



This year, the fair is witnessing the launch of the "Your Culture is Your Book" initiative, for which a special corner is allocated, and the prices of books in it range between 1 to 20 EGP as a maximum, in addition to the launch of a digital platform for the exhibition that allows booking entry tickets and viewing the exhibition map to know the locations of publishing houses and books they contain, as well as Providing online purchases, in addition to broadcasting the cultural activity accompanying the exhibition, including seminars, literary and artistic workshops, and providing virtual tours with 3D technology.