The Bibliotheca Alexandrina launches a program to teach hieroglyphics for elementary teachers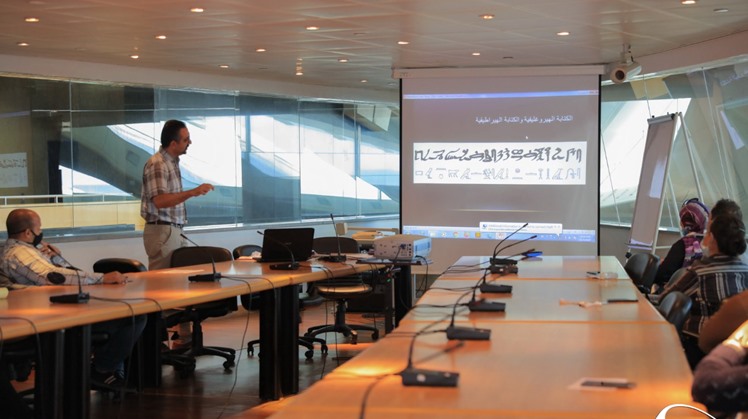 Sun, Apr. 11, 2021
Within the framework of cooperation between the Bibliotheca Alexandrina represented by the Calligraphy Studies Center and the Directorate of Education in Alexandria represented by the General Administration of General Education - Development of School Resources, the Bibliotheca Alexandrina organized training courses to teach hieroglyphs for teachers of social studies for the fourth grade of primary school.


The courses aim to provide teachers of social studies at the primary stage with scientific developments in the fields of the ancient Egyptian language, and to get acquainted with the latest scientific theories that contribute to supporting the educational process to raise the level of students, which clearly affects raising their academic and scientific level, as well as activating and in line with Egypt Vision 2030 , For pre-university education, which was established to nurture the gifted to provide them with higher education in the fields of advanced knowledge and skills; And to encourage school students to research.


These courses also come in the context of the Ministry of Education teaching hieroglyphics to fourth-grade students, and based on the firm belief of the Library of Alexandria that studying the ancient Egyptian language is essential to understanding the ancient Egyptian civilization and to enhance belonging and pride in the Egyptian identity among its children. The courses are designed to support the understanding of the ancient Egyptian civilization, and to learn the first principles of understanding the ancient Egyptian language, while studying some simple sentences and rules, such as simple hieroglyphs, reading the names of kings and nobles and learning the basic rules on which the ancient Egyptian language is based.


It is worth noting that the Calligraphy Studies Center at the Library of Alexandria has issued the book "Words from Life in Ancient Egypt, Hieroglyphs for Children" in Arabic and English. Where the book is suitable for the age group from 9 to 14 years, which is the most comprehensible category of the scientific material available in it.
In the same context, the Calligraphy Studies Center continues to offer courses for teaching the ancient Egyptian language in its various scripts: hieroglyphs, hieratic, and demotic, from 2006 until now.