Head of the National Museum of Civilization: We have advance reservations for a visit, and an average of 3,000 visitors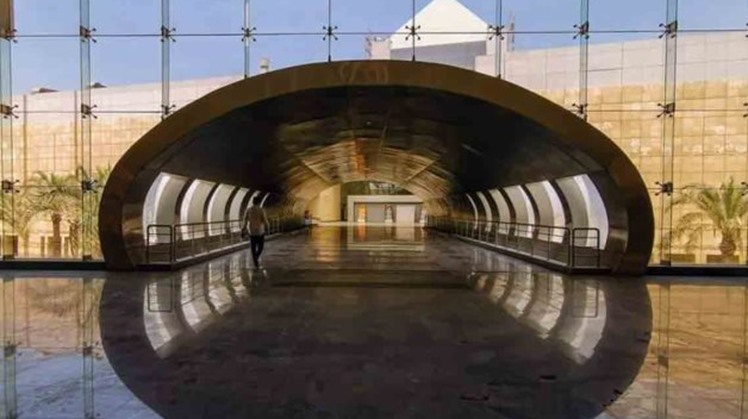 Tue, Apr. 6, 2021
Dr. Ahmed Ghoneim, CEO of the National Museum of Egyptian Civilization, said that the average number of visitors per day during the current period is expected to be from 2,500 to 3,000 per day, as a result of the effect of the majestic scene in which the royal mummies emerged from the Egyptian Museum in Tahrir to the National Museum. Of civilization, which dazzled all the peoples of the world.

Dr. Ahmed Ghoneim explained, in exclusive statements to "The Seventh Day", that there are a large number of reservations made to visit the museum by Egyptians and foreigners, through the website, during the coming days, as the site facilitated the process of pre-booking tickets, and the museum is keen on To provide all services to all visitors, due to the lack of overcrowding at the entrance gates, in addition to the cleanliness of the museum and the provision of service in the finest form, so that the visitor can listen to his trip inside the National Museum of Civilization.

Dr. Ahmed Ghoneim added, in the first days of the opening of the Museum of Civilization, we did not expect this huge number of visits, as a large number of the public was keen to visit it from the first hours of the opening of the museum's doors, to the point that we closed the hall more than once due to the increase in the number of visitors of different ages, children and youth. And the elderly, in order to preserve the application of social distancing between people, then we return and open it again during the day.

Dr. Ahmed Ghoneim explained that it is striking that there are a large number of foreigners from different countries of the world, "Europe, Asia, and Africa". She was keen to visit the museum on the first day of its opening, and everyone is enjoying all the pieces that were displayed in the museum, as everyone takes pictures with The artifacts, along with their reading of each explanation card included in each display.