Q and A .. Were cartridges and inscriptions found inside the Roman fort in Aswan?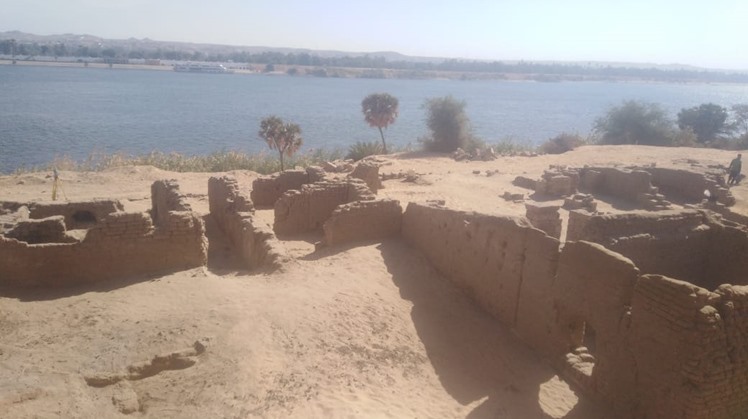 Mon, Jan. 25, 2021
The Egyptian archaeological mission from the Supreme Council of Antiquities, operating at the Shiha Fort site in Aswan Governorate, recently managed to uncover the remains of a Roman fort that includes the remains of a church from the early Coptic era, and the remains of a temple from the Ptolemaic era, and during the next report we review the details of the discovery.



Q / What is the description of the new discovery?
A / I discovered inside the fort a set of architectural elements of the Ptolemaic temple, and an incomplete sandstone panel, on which there was a model of the entrance to the temple and a man in the form of a Roman emperor, standing next to an altar topped by a part of a deity, in addition to four sandstone blocks engraved with palm fronds. Also found was a pottery vase and part of a red brick vault from the Coptic era.



Q / Are cartridges and inscriptions found inside the fort?
A: The cartouches of the Ptolemaic kings and a late hieratic inscription, and one of the Greek emperors, were found.



Q / Was part of the fortress discovered before?
C / The mission has completed the work of uncovering the remains of the monastery and the church that were built on the ruins of this fort. The German archaeologist Hermann Juncker was able to discover a part of them previously in the period 1920-1922 AD.



Q / How was the beginning of the discovery or archaeological evidence?
A / The mission revealed the extension of the remnants of the mud brick wall surrounding the Shiha church on the western side, with a width of approximately 2.10 m, and on the northern side of the church there are four rooms, a transverse hall and an upward staircase, and on the southern side there are ovens for burning pottery, as was found. On stone slabs on two levels located on the eastern side below the church.