Sun, Nov. 22, 2020
Today, we see a sculpture of the Triad of Menkaure, and it was called the Triad because it contains three main components: the king, the god and the ruler of the region, so in every triad we find the king and with him the goddess Hathor and a person representing a region of Egypt.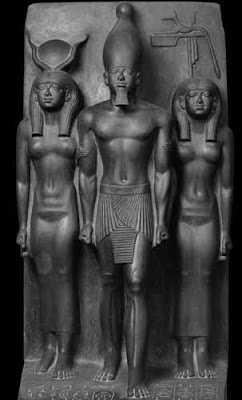 This triad was carved on schist stone, which is one of the hardest rocks that are difficult to carve on, but Al-Masry carved on it brilliantly and dazzles the viewers. We find the king holding a scroll of the legitimacy of the ruling in his hand, and next to the king the goddess Hathor in the human image, and the top of her head is Ra represented in the disc of the sun, and in the midst of the horns of the cow that we used to see Hathor in this image, and in this triad she wears transparent clothes and carries in her hand the shen. A step forward as a kind of support for the king who takes a complete step towards war and death with honor, and this royal pause is called the military pause, and it is the most correct pause that helps the safety of the backbone, also on the other hand we find a woman representing the ruler of the region, and this trinity refers to the Siut region, i.e. The present-day Assiut governorate, through the image of the governorate idol, which resembles Anubu or Anubis, the sacred deity of this region.
We find that the governor of the region or the representative of the region embraces the king and goddess Hathor as well in an appearance that has a kind of exaggeration in the length of the hands, but it did not harm the beautiful appearance of the triad.
The trinity was discovered in 1908 in the valley temple of Menkaure in its own hierarchical group, and 5 were found and it is believed that they were eight as there are eight places allocated for them there, in the eight corridors of the temple, and it was believed that they were placed in each region of Egypt and But this is an exaggeration, and the five were found in good condition, except for one completely broken and the other almost intact, and there are now three of them in the Egyptian Museum and two in Boston.