Live Science sheds light on the colorful inscriptions of the Temple of Esna ...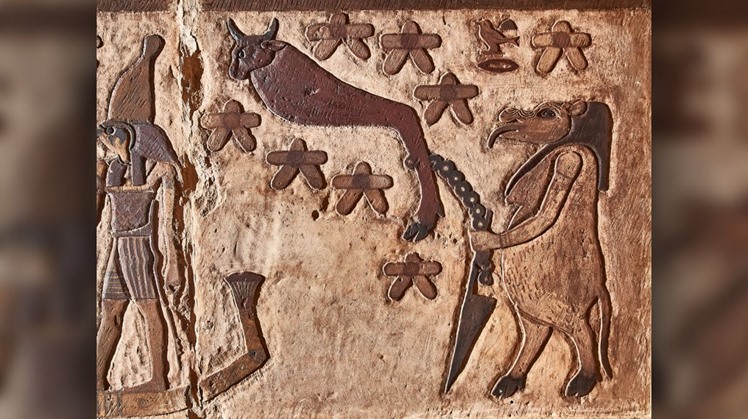 Sun, Nov. 22, 2020
"Life Science" website sheds light on the colorful inscriptions revealed by the restoration of the "Esna" temple related to the ancient Egyptian towers. The Ministry of Tourism and Antiquities had announced the start of the joint Egyptian-German mission between the Antiquities Registration Center at the Ministry of Tourism and Antiquities and the Egyptology Department at the University of Tübingen, Germany. The sixth season of the project to restore and document the Temple of Esna in Luxor Governorate, what are the details of the restoration work? It is what we will review through the next lines.

The mission's work in this season included restoration work and cleaning the layers of soot and dirt, removing salts from the walls and ceiling of the temple, and showing the original colors of the inscriptions, especially the astronomical inscriptions that adorn the roof of the temple, which the restoration team was able to show a large part of during the work of previous seasons.
This season's work will continue until the first months of 2021.

The colorful temple carvings over the centuries have suffered from the accumulation of thick layers of soot, dust and dirt, in addition to the remains of birds and bats, spider nests and salt deposits.

"We don't repaint anything, we just remove the soot," said project leader Crystal Leitz, a professor of Egyptology at the University of Tübingen in Germany. During the restoration, researchers cleaned up the ancient carved scenes depicting the towers.

The temple is located about 100 meters from the west bank of the Nile in the city of Esna, and it dates back to the Roman era; Its construction began in the era of the Roman Emperor Claudius in the first century AD, and ended with inscriptions in the era of Emperor Decius between the years 251-249. The temple was dedicated to the god Khnum in the form of a ram, along with his two wives, and during the nineteenth and twentieth centuries it suffered from urban encroachment, so houses were built around it, so that a house was built directly in front of its entrance controlling the movement of exit and entry to and from the temple. In the era of Muhammad Ali Pasha, a cotton warehouse was also used.